Irish actor Jamie Dornan has stepped up to fill the gaping whole left by Charlie Hunnam's departure from Fifty Shades of Grey. In the eloquent words of Anastasia Steele, the novel's hapless female protagonist, "He is so freakin' hot." Also, "Double crap!"
Dornan is well-equipped for this role for a variety of reasons. He used to be an underwear model. The New York Times one time nicknamed him "The Golden Torso," which is a strong endorsement. His past high-profile roles have included a count (in Marie Antoinette), someone who hunts down a woman in a fantasy realm with the intention of removing her still-beating heart (in Once Upon a Time), and a masturbating serial killer (in The Fall). If you combine all those things together, you get Christian Grey. Perfect!
Focus Features and E.L. James have yet to comment on the casting, but The Hollywood Reporter says that negotiations are now underway to finalize the deal. [E!, THR; images via Models.com, Facebook]
---
G/O Media may get a commission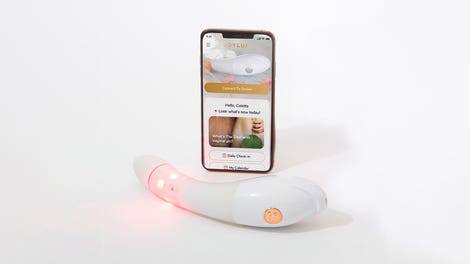 $50 Off
Joylux vFit Gold Device
Several media outlets/people on Twitter were reporting that Rihanna changed a portion of the lyrics in "Pour It Up," from "All I see is dollar signs" to "all I see is Palestine." Political! Now, after watching a video of the performance, everyone is realizing that that wasn't true. Rihanna did not weigh in on the Israeli-Palestinian conflict. Rihanna continues to see dollar signs and only dollar signs.
Just two weeks ago, if you'll remember, Rihanna sold out a stadium in South Africa and couldn't be bothered to look alert/not lip sync, so, yeah, forming and controversially espousing an opinion on Palestine seems like more effort than the singer has in her. [HuffPo]
---
After a creepy, voyeuristic photo of Lindsay Lohan appearing to reach for a wine bottle appeared on the Internet, several people began to engage in gleeful speculation about the decline of her sobriety. That's not the case, says her rep: just because someone's blurry, lo-res hand is in the same frame as a bottle of wine does not mean they have plans on consuming it. She was probably reaching for her purse, which was next to the bottle. LiLo is currently taking meetings on "several high-profile film projects." [Extra TV]
---
Tom Hardy is going to play Elton John in Rocketman, which is (duh) the Elton John biopic. "We are confident that Tom will embody the physicality and spirit of Sir Elton," says one of the film's executive producers. Tom Hardy isn't the first person I my mind would light upon when asked who should play Elton, but I'm into it. [The Wrap]
---