After proof was discovered that the Kardashians have been filming scenes for Kourtney & Kim Take New York after she filed for divorce from Kris Humphries in order to make Kim look more sympathetic (or to make it appear that there were even any visible problems in the brief marriage), it's difficult to watch this show without thinking that all of the scenes in which Kim is talking about her relationship were filmed after the fact, like her heart-to-heart with Khloe on last night's episode.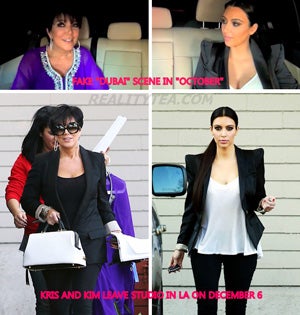 On last week's episode, Kim and her mother were supposedly in a car in Dubai, where Kim confided that she was unhappy in her marriage. However, paparazzi photos caught Kim and Kris Jenner leaving a studio in California in the same outfits on December 6, well after Kim had filed for divorce. Now that we know that you can't put anything past this family, the authenticity of all of their scenes come into question. In their desperate attempt to salvage the family brand, they actually may have ruined it. It's not like any of this comes as a particular surprise to anyone watching, but you have to kind of feel sorry for that poor son of a bitch Kris Humphries. He actually thought he got married.
As far as we can tell—from actual footage of Kim and Kris H. together—the only real problem in their marriage was her incessant nagging. She gets on his case about everything, from the way his sneakers are organized to the shirt he chooses to wear to his massage appointment. And did she really think that a 26-year-old guy living in a hotel was gonna pick up after himself?