Ever since Sex and the City turned out to be a money making juggernaut, Warner Brothers has decided to aggressively market The Women. "This is an about-face from the studio's earlier decision to leave plans intact for about-to-shutter Picturehouse to debut the chick flick in limited release and with a small P&A," says Nikki Finke, who has been following the fate of the Meg Ryan-helmed film for some time now (also starring: Annette Bening, Bette Midler, Jada Pinkett Smith). If you'll recall, last year Warner Brothers' Jeff Robinov famously declared, "We are no longer doing movies with women in the lead." Well apparently he's doing at least one movie with a woman in the lead, and while that's heartening, movies still have a long way to go. Looking at the just-released shortlist for Emmy nominations, however, shows that there are myriad plum roles for leading ladies on the small screen. Which leads me to wonder: why is there such an enormous disconnect between females on TV and the ones on the silver screen?
Tina Fey (30 Rock), Glenn Close (Damages), America Ferrera (Ugly Betty), Julia Louis-Dreyfus (The New Adventures of Old Christine), Felicity Huffman (Desperate Housewives), Mariska Hargitay (Law and Order: SVU), Kyra Sedgewick (The Closer), Minnie Driver (The Riches), Elisabeth Moss (Mad Men) and Jeanne Tripplehorn (Big Love): these were the women who were nominated for Emmys, by-in-large playing strong, capable, well-written roles. And what's more, most of these women are, gasp, over 35.
Are there so many more available roles for women of a certain age on TV because producing a television show is that much cheaper? Are aging bodies less obvious on the small screen, and so they're more acceptable? Are Hollywood honchos just stuck believing that women don't see movies, or that men don't want to see movies with anything but eye candy? It's probably a combination of all of the above, and even though those televised, meaty roles are something to be proud of, there is not a single black actress on the short list for Best Actress Emmy (there are two Latinas: Ferrera and Eva Longoria-Parker).
I know I've said this so many times before, but there is something concrete we can do to help: go see movies made by women, or made with women in respectable roles. I'd tell you to go see something specific this weekend, but the only recent release with a plucky female protagonist is Kit Kittredge, and if you're not a Jezemom, I'm guessing that holds limited interest for you. Sigh. We clearly have a long way to go.
Warner Brothers Decides To Embrace The Women [Deadline Hollywood Daily]

Why Won't Warner Embrace The Women? [Deadline Hollywood Daily]

Warner's Robinov Bitchslaps Film Women [Deadline Hollywood Daily]

Sarah Silverman Lands In The Top 10 List Of Emmy semifinalists For Best Comedy Actress! [Gold Derby LAT]

Looks like Mary McDonnell Of 'Battlestar Galactica' And Elisabeth Moss Of 'Mad Men' Are On The Emmy Top 10 List [Gold Derby LAT]
G/O Media may get a commission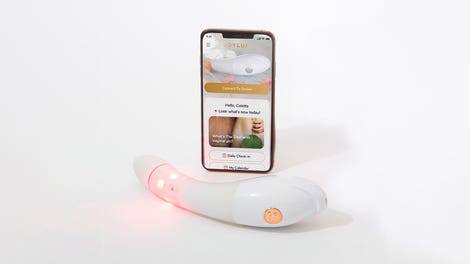 $50 Off
Joylux vFit Gold Device
Earlier: Ultimate Chick Flick The Women Is Finally About To See The Silver Screen