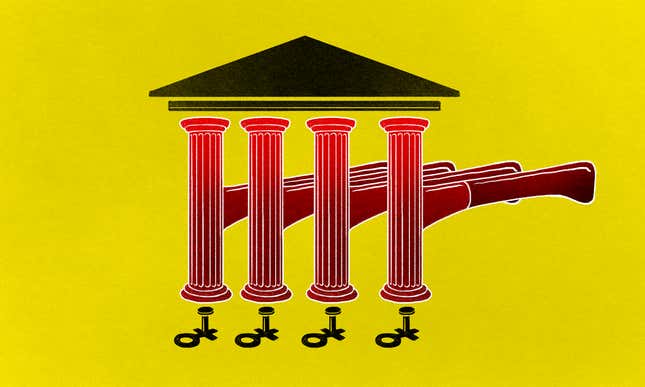 At Brigham Young University, the flagship school of the Church of Jesus Christ Latter-Day Saints, the Honor Code rules campus life. The Honor Code, a broad and far-ranging document governed by LDS's Church Education System, covers everything from drinking coffee to a "chaste and virtuous life," "homosexual behavior," alcohol consumption, clothing, and language. It's the moral centerpiece of the private university, governing not just students, but faculty and staff as well.

In a promotional video produced by BYU, the Honor Code is framed as the fabric which knits the large university together: "Because character is intentional, integrity is a choice, and honor is deliberate," an artsy blonde says to the camera, while extolling the virtues of the ecclesiastical endorsement system, to which every student who matriculates at BYU agrees to abide.
But this year, four students with recent stories of rape or sexual assault have alleged that BYU has used its Honor Code to target them, unfairly, after the fact. They say that Title IX reports are forwarded to the Honor Code Office, putting alleged victims in line for discipline simply for reporting incidents of assault and abuse. Madeline MacDonald and Madison Barney, both undergraduates at BYU who were subject to Honor Code investigations after reporting their sexual assaults, told Jezebel that their attacks were picked apart by university administrators who they say hunted for potential violations gleaned from the details of police and Title IX reports.

In addition, both MacDonald and Barney allege that they were never offered counseling or other services, and were shut out of their own Honor Code investigations as well. MacDonald also alleges that BYU Title IX Coordinator Sarah Westerberg "outright doubted" her sexual assault complaint and questioned whether or not Title IX complaints were generally manufactured by women with "moral regrets."

Westerberg did not return repeated requests for comment. Instead, in a statement to Jezebel, BYU spokesperson Carri Jenkins said that "victims of sexual assault will never be referred to the Honor Code Office for being a victim of sexual assault." Jenkins continued:

A report of sexual assault would be referred to the BYU Title IX Office—not to the Honor Code Office. A Title IX investigation at BYU is separate from the Honor Code process. The purpose of the Title IX investigation is to investigate the sexual assault not Honor Code violations. Again, the victim of a sexual assault is not going to be referred to the Honor Code Office for being a victim of sexual assault.
The university refused to comment further, and their statement invokes a matter of semantics: A student may not, as Jenkins wrote, be referred to the Honor Code Office for being a victim of sexual assault. However, it appears that she may be referred to the Honor Code Office as a direct result of reporting that assault, which is a narrow distinction with dangerous implications.
According to MacDonald and Barney, BYU scrutinizes sexual assault reports for possible Honor Code violations, including drinking and premarital consensual contact. The university's own sexual misconduct policies encourage victims to report, "in order to protect their own and others' safety," noting that victims "should make a report even if they have been simultaneously involved in other violations of university policy."

Though BYU claims that the Honor Code investigations are separate from Title IX reporting, Barney and MacDonald say that simply isn't true: they allege that a Title IX investigation, in practice, turns into an Honor Code investigation.
"The Honor Code creates a culture of victim-blaming and victim-shaming," Barney said in an interview with Jezebel. "Title IX will investigate you and if they find any grounds for Honor Code allegations, they will forward that to the Honor Code and they can suspend you or expel you."
---
Federal Title IX enforcement does not, by the letter of the law, currently prohibit universities for investigating or punishing victims of sexual assault for violating other university policies. In 2013, University of North Carolina student Landen Gambill was brought before the school's student-run Honor Court for speaking publicly about her rape and creating an "intimidating environment" for her alleged rapist. The incident compelled UNC to sever the connection between the conduct code and Title IX reporting, but religious universities, in particular, have struggled to suss out the interrelationship between the moral dictates of campus policy and the judicious treatment of victims of sexual assault.

A 2014 American Prospect report on Bob Jones University, a private evangelical institution in South Carolina, found a culture in which rape victims were routinely blamed for being victims; according to numerous current and former students, victims were often made to repent for "sin"—like smoking and premarital sex—and told they were responsible for the crimes perpetrated against them. One BJU student, who was raped and impregnated by her pastor, was expelled because she lied about going off campus, which is a violation of the school's detailed student conduct code. In the Prospect report, Kathryn Joyce described BJU's culture as one that "paints all sexuality—from rape to consensual sex—as equivalent misdeeds."
MacDonald and Barney accuse BYU of doing something similar, of prioritizing the enforcement of the Honor Code over rape and sexual assault victims, and of treating Title IX and police reports as little more than evidence in future Honor Code investigations. "BYU likes to look at your rape and chop it up into little pieces and choose the parts that they can punish you for," Barney said.
BYU's process also seems to have a dampening effect on rape and sexual assault reporting. On the account of several students present, The Salt Lake Tribune reported that Westerberg said, at a campus rape awareness event earlier this month, that she would "not apologize" for forwarding victim reports to the Honor Code; she simultaneously is said to have acknowledged that doing so might have a "chilling" effect on reporting.
While BYU's involvement of the Honor Code might not be a clear violation of Title IX, some experts say that it violates the law's spirit. Alexandra Brodsky, co-founder of Know Your IX, told Jezebel that Title IX obligates universities to "take affirmative action to reduce gender violence"; the federal law, she added, "is also sensitive to the environment of the school and not just the impact on the individual student." Brodsky elaborated:
Schools have to make sure that there's no hostile environment on campus. I think there's a real argument to be made that having these Honor Code restrictions can be used in a retaliatory way.

[BYU's procedures] can very reasonably be read as perpetuating a hostile environment because the school is constructing roadblocks to students reporting harassment and assault and abuse, therefore putting future students at risk.
Other Title IX experts agree with Brodsky's assessment. The coordinator of the victim's advocate office at a sizable private university told Jezebel that BYU's approach is far from "best practices."
"The conduct violations that BYU considers—modest dress, alcohol, previous consensual contact with the perpetrator—those are things that should explicitly not be considered when going through an investigation," the victim's advocate said. She added that these factors already lead to underreporting, and that a policy that is "victim-focused" would specifically try to allay those fears.
That rape and sexual assault are already underreported is a well-known fact, but on campuses, this seems to be compounded by social expectations and fear of retaliation. A 2007 study funded by the National Institute of Justice found that 42 percent of college women who were physically coerced did not report their attacks. In response to those statistics, Colby Bruno, Senior Legal Counsel at the Victim Rights Law Center, told Time that underreporting at universities was not surprising; victims are often wary of being exiled from social circles. "The victim loses friends or becomes a social pariah. If you report on a really small campus, it's really difficult to re-integrate after you report," Bruno said.
Reporting becomes even more complicated in a religious university setting, in which a sexual act will be judged according to religious considerations (marital status, heterosexuality, the use of alcohol) as well as the consideration of consent. Compound all these factors with BYU's reporting protocol, in which "other violations of university policy" is invoked directly, as well as the plausible fear of an Honor Code investigation—and it's unsurprising that the university's own Title IX Coordinator would not only acknowledge a "chilling" environment, but furthermore, imply that this is simply the natural order or things.
---
Madeline MacDonald grew up dreaming of going to Brigham Young. A third-generation Cougar, she said that it was always assumed she'd go to BYU. "As a kid my mom woke me up every morning by singing the BYU fight song," MacDonald, now a junior, said. "When they do the 'Rah-rah-rah-rah-rah,' part she would jump on my bed. That was my whole childhood." But since her alleged sexual assault in December 2014, MacDonald's perspective about BYU has changed.

MacDonald, she says, was sexually assaulted by a non-BYU student who attended another Utah university. After the attack, she immediately reported her assault to both the police and BYU's Title IX office. It's clear from MacDonald's recounting of events that she was prepared for both investigations to go poorly. "This was right after the whole summer with the Rolling Stone article," MacDonald said, referring to the magazine's now-debunked account of rape culture at the University of Virginia.

After her assault, MacDonald said she thought, "I need to be the perfect victim so they can actually prosecute this and not blame me." She said that the night of the assault, she bagged her clothes and put them in the refrigerator to preserve DNA. MacDonald's interactions with the police went about as well as she expected; though she provided them with a detailed account of the crime, as well as contact information for the man who assaulted her, the police chose not to pursue a criminal case. MacDonald says that police told her there wasn't enough information.
She was more surprised, however, by the treatment she received at her own university. "I thought it might be different," MacDonald said, referring to the spate of recent reports outlining how universities have mishandled victims. "I thought, 'Those weren't religious schools, and my school is better than that.'"
But MacDonald's faith in BYU's system was quickly dashed. MacDonald said that the Title IX office was "very diminishing of my claim." Westerberg, MacDonald alleges, "outright doubted me," and told the computer science major that "in her opinion, almost all BYU rape and sexual assault reports are fake; that 'they're put out by girls who feel moral regret after having consensual sex and then decide that to escape that regret by calling it rape.'"
She continued, "I don't believe that happens, but Westerberg viewed all reports as being false and incorrect. Very much like victims are just trying to ruin the lives of these good, upstanding, young returned missionaries."
In a statement to Jezebel, BYU said that the office takes Title IX "reports extremely seriously, with our first priority being the welfare and safety of the student." (Again, Westerberg did not comment on any of MacDonald's specific claims after multiple requests.)
Yet MacDonald says that simply isn't true. She says that the Title IX office treated her like a "potential liability and a potential lawsuit, not an actual person. [Westerberg] viewed her job to contain and silence me." It was after her encounter with BYU's Title IX office, MacDonald told Jezebel, that she learned she would be investigated by the Honor Code Office. "I was completely upset about that," MacDonald said.
More troublingly, MacDonald said that the Honor Code Office refused to tell her what they were investigating her for: "There was nothing in my reported assault that was an Honor Code violation. There was no alcohol, no drugs, never anything previously consensual between myself [and my attacker]."
MacDonald said that she repeatedly asked to be in the meetings, but her requests were denied. "Honor Code did an interview with me, but they wouldn't tell me what was going on," she said. "They refused to let me be involved with my own investigation." To this day, MacDonald doesn't know why the Honor Code Office was investigating her or whether or not they had any allegations against her; the university refuses to release the records to her, though it's agreed to allow her to read them under supervision, which she plans to do later this month.
"It's changed how I feel about the institution. I've had great experiences with professors and in my department, I'm very involved," MacDonald said. But the experience with both the Title IX office and the Honor Code Office "has really woken me up to the fact that BYU has a lot of systematic errors. There are a lot of issues that are a direct result of result of the overly religious culture."
MacDonald plans to stay at BYU and eventually graduate, but she hopes that the university will revisit the relationship between the Title IX office and the Honor Code. "I'm not going to leave this school over a couple of lines in the Title IX policy," she said, "but they magnify the issues with women here."
---
Like MacDonald, 19-year-old Madison Barney grew up in a BYU family. Her family members are alums and, as a little girl, she dressed up as a BYU cheerleader for Halloween. Going to BYU, Barney says, "was definitely a dream for my family." Now Barney, who is currently in the middle of an Honor Code Office investigation, is planning to transfer out of the university.
Barney says she was raped in her off-campus apartment in September 2015. She reported the incident to the Provo police. Shortly after, Barney's alleged rapist, a member of the Mormon community, was arrested by the Provo police; he is currently out on bail and awaiting trial for the attack.
Since her alleged rapist was not a BYU student, Barney saw no purpose in reporting the attack to any university judiciary body. Two months after filing a police report, however, Barney says she received an email from the Honor Code Office instructing her to "set up a meeting with us." She says that after receiving the email, she repeatedly called the office but, "they wouldn't answer any of my questions, so I finally set up a meeting with them." Barney met with a representative from the Title IX office and despite her objections, opened an investigation.
Barney was reluctant to detail the charges the Honor Code Office brought against her: "I can outline things in the Honor Code that are usually put against rape victims," she said. "The Honor Code prohibits drinking alcohol, being in the bedroom of the opposite sex, being in the apartment of the opposite sex after a certain curfew, and of having any kind of consensual contact." As Barney pointed out, "a lot of these things are circumstances of rape."

Barney was confused how the university even knew about her rape. She hadn't told any administrators, and was deeply resistant to the Title IX office's involvement. According to Barney—in an account confirmed by the Salt Lake Tribune, via the Deputy Utah County Attorney's office—the university found out about her rape after "my rapist took his copy of the police report to his friend, who then gave it to the Honor Code office because he wanted me to be punished for accusing me."
In this story, the friend of Barney's alleged rapist is Utah County sheriff's deputy Edwin Randolph. Randolph, according to prosecutors, did give Barney's 20-page police report to BYU's Honor Code Office. On April 15, the Salt Lake Tribune reported that Randolph was charged with third-degree witness tampering for illegally sharing the police report, charges that were later dismissed without prejudice.
Randolph, a graduate and former employee of BYU, admitted to this in an interview with investigators, and explained why he gave the police report to the Honor Code Office. The Tribune reports:
In the recorded interview, Randolph said he didn't believe the rape allegation and that the police report showed the woman's behavior was "unacceptable" for a BYU student.

"I'm not here to judge her, but I think, she's in school here and she's screwing around," Randolph said. "When I was [a BYU student], we had guys get in trouble for this stuff, so I think it's a problem."
In an interview with the Tribune, Deputy Utah County Attorney Craig Johnson said that he "implored" BYU to postpone their Honor Code investigation, saying that they "legally" should not be in possession of the police report.
Barney is currently barred from registering for classes until she cooperates with the Honor Code investigation. "Because I'm the primary witness in my ongoing [criminal] case I can't talk to them about these allegations," she told Jezebel, "because they're all only things that are in my police report and my detective found relevant to my rape."
The university declined to comment directly on Barney's allegations. Instead, Jenkins forwarded Jezebel a press release from the Utah County Attorney's Office. "BYU has not interfered with the prosecution of, nor has it acted unlawfully with respect to the pending sexual assault case," the release says. The Tribune notes that the release was sent by Utah County Attorney Jeffrey R. Buhman, Johnson's elected boss, who, confusingly, told the newspaper, "I'm not saying he wasn't accurate," in reference to Johnson's initial comments about BYU's improper involvement. "I'm saying protecting victim's rights is of paramount importance to our office."
Though BYU may not be acting unlawfully, their pursuit of the Honor Code case, Barney says, has left her feeling re-victimized: "BYU is justifying what my rapist did; they're emboldening him." The university's pursuit of an Honor Code case against her demonstrates to the community that "it's acceptable to retaliate against rape victims."
When asked about BYU's insistence that victims of sexual assault are never referred to the Honor Code for being victims of sexual assault, Barney scoffed. BYU, she said, is trying to claim that potential Honor Code violations are separate from her rape. "They're not," she insisted. "All of their Honor Code allegations came directly from my police report."
She reiterated that though the university might believe that they can view her rape in pieces, scrutinizing individual parts, that the story of the night can only be viewed as a whole—that the circumstances of her rape are deeply connected to the crime itself.
Barney, ultimately, is transferring out of BYU. "I can't stand to stay at this school," she said.
Barney confirmed to Jezebel that she filed a federal Title IX complaint against the university on Monday, April 18. After Barney filed her Title IX complaint, BYU President Kevin Worthen issued a statement indicating that the university will "study these issues."
The university recognizes the inherent tension, in some circumstances, in these two important parts of BYU's efforts to create and maintain an atmosphere consistent with the ideals and principles of the Church. In all Honor Code proceedings, the university strives for fairness, sensitivity and compassion, taking into account all mitigating facts and circumstances. At the same time, BYU has zero tolerance for students who commit sexual violence. The university's overriding concern is always the safety and well-being of its students.
Both MacDonald and Barney hope that BYU will change its policy, despite the fact that neither of the women expects much. "There's a lot of resistance to changing the Honor Code on campus," MacDonald said. "Everyone assumes you're saying, 'I want BYU students to be promiscuous heathens.' But I'm saying we shouldn't punish victims. The fact that [this means] an Honor Code change makes it very controversial," she added.

Barney said that, despite her experiences, "I have a little more hope than Madeline concerning the relationship between the Honor Code and Title IX." BYU, she added, needs to realize that "they have to empathize with the victims."
Last week, Barney launched a petition requesting Honor Code immunity for victims of rape and sexual assault. In the petition, which has nearly 80,000 signatures, Barney wrote, "BYU is not on my side."
---
Illustration by Jim Cooke