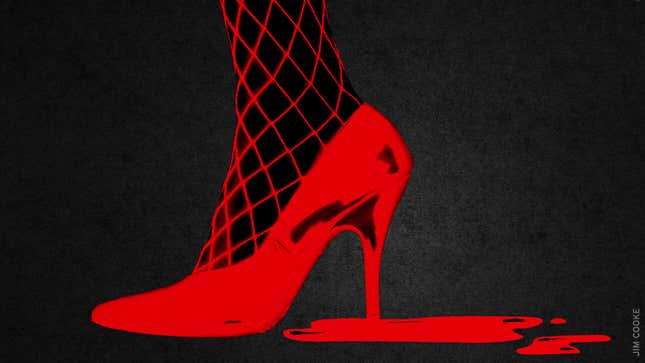 Gary Ridgway, the Green River Killer, confessed to the murder of between 48 and 71 prostitutes in the 80s and 90s: "I picked prostitutes because I thought I could kill as many of them as I wanted without getting caught." Earlier this month — December 17th, 2012 — was the 10th annual International Day to End Violence against Sex Workers, a day for mourning and solidarity for Ridgway's victims and all sex workers who have been murdered or harmed. It's also a day for acknowledging and addressing the structural violence that we live with, as sex workers and in all of our communities.
Betsy Wolfe Reveals the 'Most Embarrassing Thing That's Ever Happened' to Her on Stage
Brianna Gardner, a 22-year old woman from Texas, was found murdered in a Chicago hotel on August 13th, 2012. A day later, Tiffany Gooden, 19 years old, was found murdered in an abandoned building in the city's Austin neighborhood. Her body was just three blocks away from where Paige Clay, 23 years old, was found murdered in an alley on April 16th. These three young black women were mourned by their friends, families, and communities, and were picked to shreds in the local news. Though it's unclear if they were working when they were murdered, all three were engaged in the sex trade, and Paige and Tiffany were transgender. We read the brutal details of how they were murdered; we saw their mug shots and advertising photos. We were bombarded by language that implied that they were less than human, that their deaths didn't matter, and by proxy, that our lives didn't matter. From a legal perspective, their deaths were unrelated, but for those of us who shared communities with these women-as sex workers, trans women, or people of color living in one of the most segregated cities in the country-their deaths are intimately connected.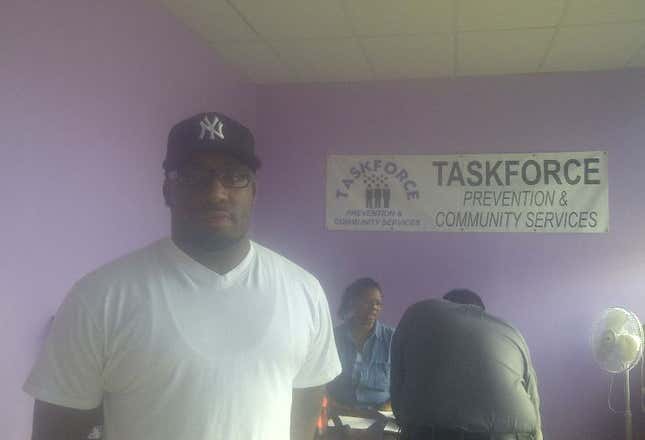 Brian Turner, Outreach Coordinator, TaskForce Prevention and Community Services

Robin Hustle: Could you start out by talking about some of the specific issues that queer people in the Austin neighborhood face?
Brian Turner: People here are not open to fashion. I call homosexuality a form of art. People are still stuck in the old days of what was said, mainly about HIV, and if [you're transgender] and don't look like a woman 100%, it poses a problem. If a heterosexual can walk down the street with you, they're more open to it, because it's not a question of "Why are you with that fag?" Not just in the Austin community, but heterosexuals, period, look at transgender people like they pose a threat.
It's hard for them to receive jobs, so their other way out would be to prostitute, for some. You have some that shoplift. If they're not given options, they take from what has already been done. You can't knock them for it, you can only meet people where they are and work with them, which is what we do here at TaskForce. You have those that come in that are really trying to come up off the streets-all of them didn't want to resort to prostitution, but they couldn't get their name changed, because they had a background for prostitution or a felony for something else. It's hard for them to get their name changed. In their minds, they say "Well, I already messed up, I might as well continue what I've been doing." When you first start, you're making a lot of money, and it gets to a point where you're not making as much as when you first started or the week before, so then they rely on other ways: shoplifting, robbing people, carjacking, etc. It's the same thing any other human would do.
RH: Absolutely. When there's no other option, for sure. Can you tell me a little more about the services you offer here?
BT: We offer free HIV testing, we offer STD and STI testing, we have an on-site doctor. We did have a mental health specialist, and we're looking into that again. My assistant and I help with resume writing and resume building. Case management helps with finding jobs, preparing them for interviews, and she's like their best friend. We have socials three nights a week: Monday is Ball Night, Tuesday is Dance Down night, and Wednesday is geared toward black MSM [men who have sex with men]. Our doors are open, completely, to the community. We're just here. We're here as a friend, Monday through Friday, we're here.
I don't know if you know Lois Bates, she passed early this year, toward the end of last year. She was a well-known spokeswoman for the transgender community for years, her and Joy Morris. Joy Morris is still a part of the community, and she's actively doing her thing.
I'm an MSM who has a gay mother who is transgender. I've actually lived my life as a woman before, and decided not to, so I can relate to some of the things that [trans women] talk about and what they go through. That's why I feel that I can be a spokesman for the transgender community. Some things I can relate to, and some things I can't, and then I go to my mother. And my auntie, Eboni Watts. She works in the community as well. I've collaborated on some work with her.
RH: Are there barriers to young people in Austin trying to access resources in other parts of the city, like Center on Halsted in Lakeview?
BT: Each side of town is a little different than others, but you go up North, you're still getting gay-bashed; you come out West you get gay-bashed. Kids come here from Center on Halsted and vice-versa; we do some collaborative work with them. The difference, up North, is that the majority of the white population does not want gay black males up there. But on the West Side of Chicago, once again, people are not open to homosexuality. But TaskForce has been here so long, and we are well known in the community as a gay organization, so it's a little more safe. You're prone to see a transgender woman walk up and down the street, and the ho stroll is the next block over, literally. Sometimes we have altercations, sometimes we don't.
RH: You talked a little about how people end up staying in sex work. What kind of relationship do sex workers in the Austin community have with the police?
BT: Being a gay black male, I've faced a lot of harassment, up North, with the police. How the police will react really depends on what area you're in. In this particular area, if you are a transgender person and you're on Madison and Cicero or any of the well-known strolls, you're more likely to get arrested, whether you're working or not. You could just be walking down the street, in broad daylight. Some of the kids who attend our socials who are not even transgender were with their transgender friends, and the police arrested all of them and charged them all with prostitution. Up North it's the same scenario but it's a little worse, due to the fact that the police just don't want them up there, period. I didn't even go to Pride, so the last time I was up there was two years ago.
RH: Did you hear about this, a few months ago, that the business association in Lakeview decided to hire a private security force to patrol around there? [Note: The North Halsted Business Association has hired a private security force for three years; in July 2012, they hired a new company and increased its visibility around the neighborhood.]
BT: Exactly. And for what?
RH: How did you know Paige Clay? And I think you said you'd met Tiffany Gooden...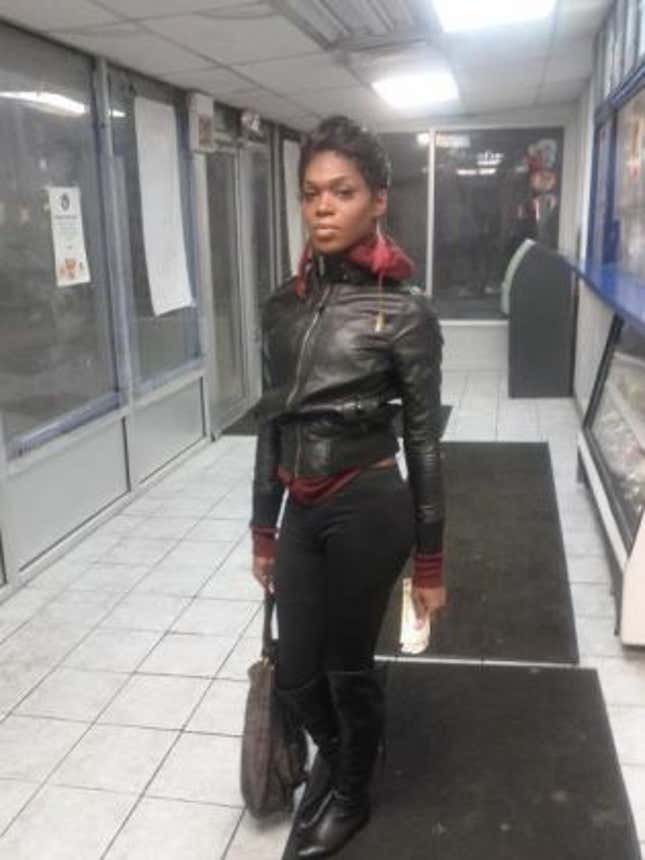 Paige Clay; courtesy of Brian Turner
BT: My biological aunt was one of Paige Clay's foster mothers, so Paige Clay grew up with me, for about four or five years. Paige grew up to be a hardworking person. She had quite a few jobs. Before [she was murdered] she had a job at Forever 21. Before she began to transition over to Paige, her name was Marvin Clay, and Marvin had stormed the ballroom scene. Every time she stepped on the floor she won a trophy. She was under the leadership of Mina Evisu at the time. She used to design her own wardrobe for each ball. She had so many different talents. Marvin transitioned over to Paige and took those same talents with her, and just embraced them more and more. She used to come here and receive services; we have our own hormone therapy here. She used to receive free condoms, stop in at the socials. She was never the type of person that was out there to hurt somebody. Paige stayed truly in the hood, on the West Side. She was a well-known transgender among the gangsta boys on the block, and they referred to her as Paige. She walked outside 24-7 as a woman. A situation occurred where she was out one night, things got out of hand, and she is now deceased.
Tiffany I never personally worked with, but I've been working very closely with the detectives and her mother. Quite a few of the kids that go here are good friends with Tiffany, and they all have good things to say about her. She was also trying to work, she was going to school, she was a loving person. Her and Paige were best friends. Tiffany and Paige would go over to Tiffany's mother's house and she'd cook for both of them. They used to throw pizza parties together. They were very active, up and coming women-black women.
RH: You've been working with the police. Do you feel like they're doing enough to move forward with these cases?
BT: Truly, I do. When I went and spoke with the detectives they were very comforting. I haven't been in contact lately with the detectives about Paige, but I've been with Tiffany. I believe that they are really doing what they need to do. I was very, very impressed when I went. They had information that I didn't even know; me and her mother, we were surprised. They're not just sitting there.
RH: I'm wondering about the effect that murders like this have on the youth that you serve. Austin has one of the highest murder rates in Chicago to begin with, and trans people of color are disproportionately at risk for violence across the board. Young people deal with feelings like grief and anger in sometimes unpredictable ways.
BT: After Paige's death a community formed. Different people from all walks of life came together, even from out of state, across the country. Everyone was not surprised, I'll say that, because it happens so much. The biggest concern everyone had was if these would be more transgender women whose deaths would just be swept under the rug. Another feeling people had was that they had to compare themselves, as far as being transgender. Some wanted to go purchase guns, some wanted to take self-defense classes. They wanted to be ready if a situation like that occurred. When bad comes, bad comes; there's really no way to prepare for it. I think the biggest thing is that the community this happens in never speaks. People always wonder why you hear about so many gay individuals in jail, or attacking people. We've been attacked for so long. The younger generation learns, from the previous generation: prepare yourself for this. There's no other way. That's being MSM, that's being transgender, that's being lesbian, that's being anything other than what society states is normal.
The majority of transgender people that work in the Austin area have communication with me. I can only speak on Paige, but Paige was actually on route to the gas station when she was murdered. She was on the stroll, but she was walking to the gas station. So was she on the stroll, engaged in activity? I have no idea. I'm guessing she wasn't because from what I was told, she was nowhere near the place where she normally goes to engage in those activities.
I've asked the police if they feel like Paige and Tiffany's murders were connected, and they told me no. They were on two different strips, and the way they were killed [was different]. Paige was shot and Tiffany was stabbed to death. You hear what the police have investigated, and then I work with so many different people and there's so many different stories floating. I just try to keep faith that it will be resolved, because if I let my personal feelings interfere it wouldn't help. I stay to stay neutral, accept all feedback, help as best I can. When I asked and they told me they didn't believe there was a connection, it was kind of good to hear.
* * *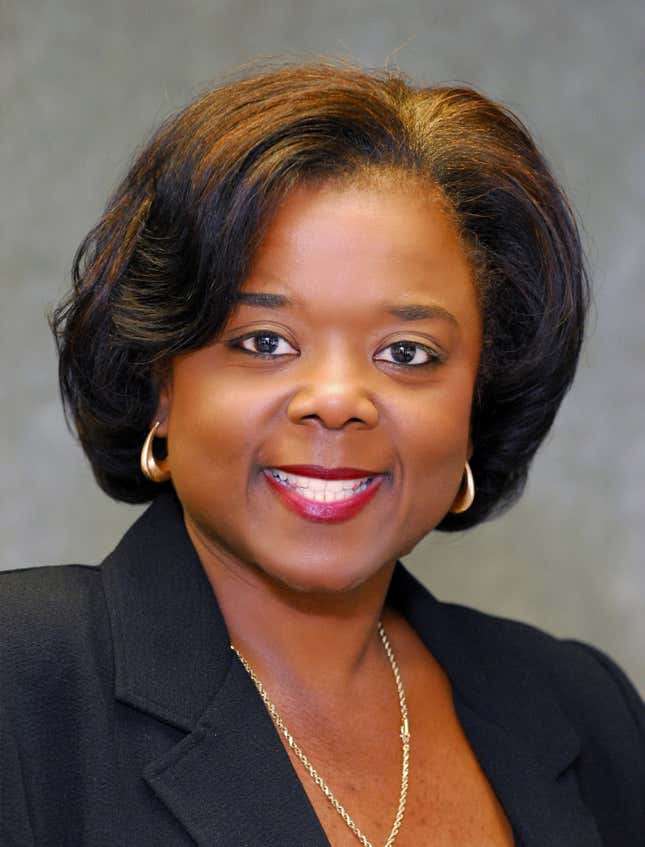 Robin Hustle: While sex workers on the whole are a diverse population, transgender women and women of color engaged in prostitution are disproportionately arrested and subjected to violence. How can the black LGBT community respond to this disparity? Should sex workers' rights be directly addressed by this community?
Sharon Lettman-Hicks: LGBT sex workers are vulnerable to violence and discrimination due to laws and negative attitudes toward sex work. When you compound stigma and homophobia/transphobia with racism, the level of injustice is tenfold.
The Black LGBT community must work to eliminate service barriers like federal, state and local discriminatory policies that prevent sex workers from accessing violence response services. It's also critical that direct service agencies are equipped to support sex workers.
In addition to sensitivity trainings for law enforcement and direct services agencies, we must advocate for legislation like the Violence Against Women Act (VAWA), the Employment Non-Discrimination Act (ENDA) and the End Racial Profiling Act, which would protect trans sex workers and all Black LGBT Americans.
Finally, violence against trans women is largely underreported. Because of the extensive barriers to reporting violence to law enforcement, it is critical that survivors report violence to a local anti-violence program like the Anti-Violence Project (AVP) 24-hour hotline: 212-714-1141. We need to document these cases, inside or outside the criminal legal system.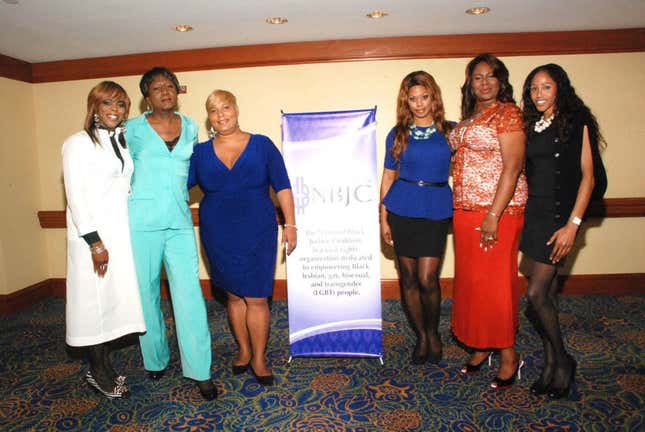 NBJC's Out on the Hill 2012 National Town Hall Meeting: Honoring and Protecting the Lives of Black Trans Women (L to R) TransSaints' Rev. Carmarion Anderson, TransGriot's Monica Roberts, National Aurora Campaign's Danielle King, Producer/Actress Laverne Cox, Transcend Empowerment Institute's Valerie Spencer, and Dr. Ayana Elliott. Photo courtesy of NBJC.
Sex workers' rights should be addressed from variety of groups and directions. It's a women's rights issue. It's an economic justice issue. It's a violence issue. It's a trans issue. It's a race issue. It's everyone's issue.
NBJC is committed to partnering with organizations like the National Coalition of Anti-Violence Programs (NCAVP) and government agencies like the Department of Justice to raise awareness and implement programs that protect and honor our Black trans sisters.
RH: The murders of Brianna Gardner, Tiffany Gooden, and Paige Clay got very little attention. How do indifferent or disparaging media portrayals contribute to violence against transgender women of color and violence against sex workers?
SLH: The media often dictates to the public what we should or should not care about. So when the media does not cover the murders of transgender women of color, it sends the message that their lives do not matter. Media is a powerful tool that can shape the national conversation and our consciousness. We must continue to pressure media outlets to do a fair, accurate and inclusive job when it comes to reporting about transgender people, especially transgender people of color.
The disparity was clear when Miss Universe Canada contestant Jenna Talackova was disqualified from the pageant. Mainstream media was largely silent about what was happening to CeCe McDonald simultaneously. It's unacceptable and it sends a dangerous message.
Also damaging is the lack of diversity in depictions of trans women of color. Yes, some trans women are sex workers but rarely do we see television or movie storylines delving into why. Trans women of color are also doctors, journalists, artists, mothers, wives, sisters and more.
RH: The mainstream LGBT agenda, the agenda that we hear from in the media and in national politics, focuses almost exclusively on marriage equality these days. When poverty and violence are the most pressing issues for so many LGBT people, what can be done to bring these issues into the national agenda?
SLH: What can be done is that we create our own agenda. That's why it is critical to have organizations like the NCAVP and NBJC. Our agendas speak to the communities we serve. Marriage equality is certainly important to protecting our families, but there are equally important issues like anti-LGBT violence, economic justice and empowerment, and employment discrimination. We must unapologetically fight tooth and nail for the CeCe McDonalds and Paige Clays as we do for the freedom to marry.
* * *
A conversation with my friend Teresa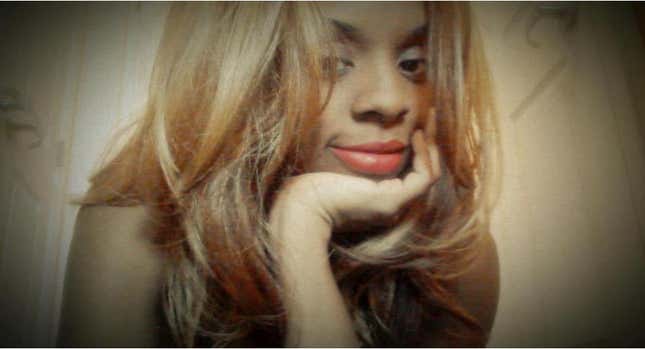 Brianna Gardner
Robin Hustle: So I asked you here to have this conversation, because when I started working on this piece it was very clear to me that the voices heard here should be minimally my own. I've been trying to interview one of Brianna's friends, and that didn't happen. That interview didn't happen, and I feel like I'm in a position to give some context on these murders but it's not my place to be the voice on these murders. What I've struggled with most in working on this piece, though, is my own emotional vulnerability. I'm privileged in certain ways that put me at a distance from these murders, but I also feel like this is a very intimate, visceral violence. When it happens to anyone among us, I think we all feel it in a very real way. I wanted to have this conversation with you not because you're in more of a position to be the voice on this — we're both white cisgender women — but because I feel like I need to have a conversation about the emotional end of this. It's not an easy conversation to have with yourself or to present to the public on your own. I'm a well-armored woman but I've been having nightmares for months.
Teresa: Yeah, it's triggering. I'm a sex worker, and sex workers have always been a part of my life. Many of the women in my life were sex workers; my godmother was a sex worker. My mother uses that saying by hook or by crook, and as a kid I never knew what that meant. We were really poor and we would need something and she'd be really cute and wink at me and say, "By hook or by crook." When I was growing up, everyone around me survived by street economies. Going to jail was normal, no sweat, you hardened yourself to it. The women I grew up around were entrenched in a gendered cycle of violence. I should clarify that it was the gendered violence that became normalized in my family, not sex work. If sex work was normalized in my family I'd be out to my mother, which I'm not.
RH: December 17th is International Day to End Violence against Sex Workers, and we were talking yesterday about how both of us feel really affected around that day, how it's a moment that draws you into thinking about violence in difficult ways. I've had some unpleasant experiences while working but none that have been violent in a concrete way in the many years I've done this. But when a sex worker is murdered, it feels very visceral. The violence of the murders themselves, and also the violence of the response in the media.
T: When you googled Shelly Frey, the young mother of two who was shot dead by a Walmart security guard last week, the third site that came up in the days immediately after her murder was a neo-Nazi site that totally applauds her death. Do you think that people who loved her don't see this? This is a woman who was just murdered, her family is trying to find out more information and they're running across this hateful, racist shit.
RH: Even the seemingly minor things like what images are run with an article contribute to that. I was trying to get a hold of a picture of Tiffany Gooden for this piece, and there aren't any available of her as a woman, but then all the mainstream media sites have been using her mug shot. The mug shot of a murder victim. Some sites used Brianna Gardner's mug shot and others used half-naked photos from her ads. It's cruel, that this is the image the world will have of you, and it's one that says that you don't count.
T: I feel like two or three years ago the papers would have just used Tiffany Gooden and Paige Clay's birth names, though, so things have maybe progressed a little, anyway.
RH: You have friends and family reading these pieces, but also casual readers, and I'm really concerned by what this says to them. A lot of the articles that came out about Brianna Gardner's murder zero in on this, "I don't understand how they got into this fancy hotel!" I keep seeing that. And the fact that she was a young black woman doing sex work, presumably, out of this boutique hotel incites disbelief because people have the idea that there's this strict binary in sex work: at-risk street workers who are mostly women of color, and high end white escorts.
T: One of the more offensive articles I read about her death was basically just about the Whitehall Hotel, and about the Magnificent Mile, which caters to tourists and people with a ton of money. They were interviewing all these people who were staying there who were really bummed out because it fucked up their vacation. [From the article Teresa is referring to: "There were a slew of police on the seventh floor. I hate to say it, but I hope it's someone she knew. I hate to think it was an intruder. We leave tomorrow, thank God." And from another hotel patron in the same piece, "As soon as we heard what happened, we called another hotel and checked out. We don't need any level of discomfort. It's not what we're here for."]
The Day to End Violence started as a vigil to the victims of the Green River Killer. It's a day to remember and honor our dead, because no one else is doing that. The public isn't doing that, the media isn't doing that. So to have this day and mourn with other people who you don't have to explain yourself to is important. We know we are mostly alone in watching each other's backs. Our lives are pushed underground, criminalized, stigmatized, and we only have each other. A sex worker's biggest safety resource is another sex worker. We're not protected by law enforcement the way the rest of the population is.
RH: Because we can't report being robbed or raped or stalked. We need other strategies for survival. Outsiders work really hard at trying to isolate us from each other, to emphasize differences between us. We're told that we have nothing in common with workers in other parts of the sex trade. I think about the labor movement at the turn of the century, and the determination of the bosses to tell skilled tradesmen that they have nothing in common with itinerant laborers, nothing in common with unskilled laborers. Your issues and their issues are totally different. And the labor movement really took off when workers were able to say, "That's not true. This is about all of us." Sex workers get the message that we have nothing in common with each other hammered into us so much by outsiders that it can really start to influence the way we think about each other. You can start to draw these lines that really don't exist. Absolutely, we have to acknowledge the particular inequalities that people in the sex trade experience, and recognize our differences, but ultimately we are in this together. It's not just a job we do as isolated individuals. It's very much a culture, and an identity, and a family.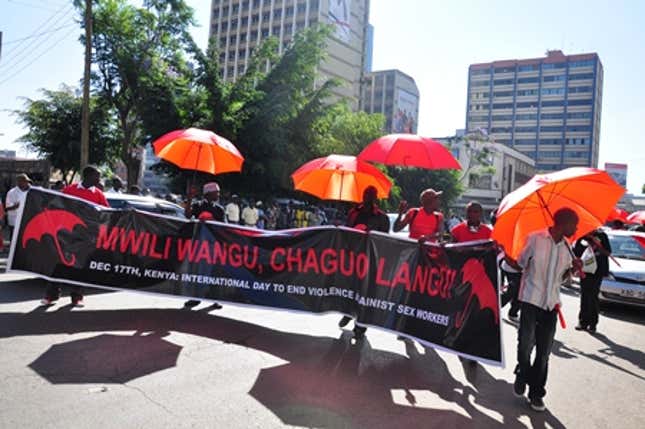 International Day to End Violence against Sex Workers in Kenya, 2010
T: As women, and this includes trans women, gendered oppression and violence are such a huge part of our lives every day. I feel deeply connected to and affected by all violence against women, because I'm a woman. Our affinity comes out of a place of oppression, and stigmatization, and criminalization. You and I have a lot of privilege, and methods that we've adopted or are allowed because of our privilege help to reduce our risk of harm at work. Which is something that every sex worker needs, and that everyone needs. We live in a culture that doesn't care about reducing harm to marginalized populations. It's a culture that expects us to solve the problem by assimilating into their culture, which is impossible and undesirable for a lot of us. I live my life in a fringe culture, and I always have, and I have a happy life, and support, and I feel proud of my gender and my sexuality, and proud of my work. When one of us gets killed, it's almost as if I've forgotten until then that people hate me, that people think that I'm disposable, that I'm trash, and that I deserve to die. It takes my breath away, and I realize that people actually think that I deserve to be raped and killed. There are people who think that that is an expected repercussion of my job. It's actually a repercussion of my gender. I will never subscribe to that line of thinking. Women that have been in my life have been killed, mostly in my youth, as prostitutes. There's that police slang, NHI: No Human Involved, to refer to a dead prostitute, or other "nonhumans." And I think about all the people I love, my friends, and myself, and my girlfriend, and know that people are justifying this, and think we deserve to die.
RH: And they justify it so casually. The level of disconnect is shocking. There's a sense that they're allowed to dehumanize us because we've chosen this work, and they believe that our murders are inevitable. People like to make a distinction and say that when sex workers are murdered, it's different from violence against trans people, against queer people, against women because we've made that choice. It's funny, though, the way non-sex workers love to throw the word 'choice' around. When we're alive, we're told we can't possibly be making actual conscious choices for ourselves. We're told that we're forced into sex work by our limitations and are incapable of making choices for ourselves. When we're dead, or when violence is inflicted on us, or when we experience illness, then suddenly this was a choice: You made your bed and you lay in it. I don't hear the same people saying anything about making other options just as real or viable or appealing. I don't hear the people who attack sex work as inherently wrong talking about how we find ways for young trans women to find desirable employment outside of street economies, because that would require addressing transphobia, addressing racism, addressing all these issues that are a lot more complicated. It's easier to say "sex work is bad" than it is to begin to address those issues.
We were talking earlier about Shelly Frey, the woman who was murdered by a security guard at Walmart. I think to some extent, the unbelievable disconnect you see in the public response when something like that happens is an instinctive refusal to recognize any of the structural inequalities that underlie that murder. To acknowledge that human being, the death of that human being, is to acknowledge all of those underlying issues and people just shut down, erase a person's humanity, because they can't deal with asking those questions.
T: Totally, and I think that people's simplistic belief and value systems lead them to the conclusion that it could never be them, that they've made choices in their lives that will never result in their being a victim of violence. They don't ask why Shelly Frey might have been shoplifting, or why someone might be doing sex work, because it isn't them. It's easier to distance yourself from the dead than it is to acknowledge what's really going on with structural violence.
RH: I don't want to validate people who are spending their time on the internet dismissing another human's life by even acknowledging what they're saying, but it does matter. Because ultimately, they're reiterating what our culture is saying about sex workers and trans women and people of color in the most blatant, ugly way; they're not the ones formulating that idea. And maybe the person writing hateful commentary on the internet isn't going to be the person that kills one of us, but when someone else says to themselves, "It's okay for me to kill this hooker, it's okay for me to kill this tranny," it's because of that person on the internet saying that our lives don't matter. And it's because of the website that puts up a mug shot of a dead woman, the journalist who undercuts somebody's experience to get a cheap laugh in an article about that person's death, that another person decides it's okay to murder us.
T: So many people who have killed sex workers end up saying they did it because we're the easiest target, because no one cares. When somebody tells a dead hooker joke in front of you, it does matter. The normalization of violence against women and against sex workers in language allows these things to happen. That language is a stepping stone to more serious violence. You're right: the stigmatization of sex workers is literally killing us.
RH: This also extends to the cultural discourse that declares that racism doesn't exist in America anymore. That in itself is a form of violence. And that contributes to three black women, the oldest only 23 years old, being murdered and those murders being widely ignored. That contributes to a sense of their deaths being banal. It contributes to an unwillingness to talk about what these women have in common. From a legal perspective, these murders were "unrelated," because the perpetrators were unrelated, though to my knowledge there haven't been any arrests made for the murders of Tiffany Gooden and Paige Clay.
T: And Lamarcus Washington, the man who's been charged with the murder of Brianna Gardner, reportedly left his cell phone in the room. So we're not talking about intense investigative police work. I don't know what the Chicago Police Department is or isn't doing, but we're talking about murders that took place in April and August.
RH: We all struggle to put up barriers between our own identities and what the world wants us to feel about ourselves. But for a lot of different reasons, a lot of people who do sex work don't have the kind of barriers in place to help resist the violence of stigma. Stigma wears all of us down. Any time you walk through the world feeling like you're less than human, feeling like you're someone who deserves violence, your risk is tenfold.
T: It takes a lot of work to not internalize all that shaming, and when it gets to you, it does leave you more vulnerable. When someone's been made to feel like they don't have value, they do things that some of us wouldn't do, they take clients that some of us wouldn't see. They choose to hide who they are and what they do, which makes them more vulnerable in specific logistical ways. And when someone is young, or in a transitional period, they may not have the kind of community that can help keep them safer.
RH: I'm just so blown away by how young these three women were. And these are not women totally lacking in support systems, either. I know Brianna had friends who she could talk to about her work, to some extent, and that she had friends who worked to keep her name alive and protected after she was murdered. It's my impression that she had some system of emotional support with other sex workers. And with Paige and Tiffany, well... it's not even clear if they were working when they were killed. But that's not even the issue. This is about who they were as entire human beings and the response or nonresponse we see around their deaths.
T: That's fascinating, because although the media hasn't focused a ton on them being sex workers, I don't see why it was brought up at all if neither of them was working at the time.
RH: For that matter, it's not necessarily clear at this point that either of them was murdered for being trans. None of that is clear at this point. The origin of what their murderers had in mind isn't clear, but what is clear is that these were two young, black trans women who did sex work, who lived on the city's West Side, and all of those realities are relevant to how they ended up dead. Paige Clay and Tiffany Gooden were killed on the West Side, in Austin and West Garfield Park, within three blocks of each other, and Brianna Gardner was killed in the Gold Coast. Chicago is one of the most segregated cities in the country, and that is so apparent in these murders, and in the way they've been addressed. It's not surprising that the news cycle dropped out almost immediately after Paige and Tiffany's deaths. There's this idea that violence is endemic to certain communities. The nonchalance around their deaths stems from the idea that Austin is just a neighborhood where people get murdered. When it's your own neighborhood, though, you feel very differently about it.
T: When I've brought up my thoughts about the murders with people in Chicago, even people who should know better have said "Oh, of course, that neighborhood." And that's suddenly the end of the conversation.
RH: Sex work in itself is not a negative choice, but youth live with the most extreme limitations, in terms of being able to move freely in the world. I don't think it's coincidental that these three women were so young. Which is not to say that young people aren't intellectually and emotionally developed enough to make their own decisions, but there are so many restrictions to the choices young people can make. I've speculated a lot about Brianna's arrest five days before she was murdered...
T: You're either broke as hell or ballsy as hell to go out and trick again right away.
RH: Going to jail, aside from all the potential for violence and rape at the hands of police, is a huge financial burden. Bail is not cheap. Dealing with court dates means taking time away from work and the rest of your life. Getting tossed in jail for one night can be a financial burden for a year. So the fact that she was murdered five days after an arrest concerns me. I don't know anything about her working practice or her screening practice, beyond knowing that one day she was arrested on the street for solicitation. Which in itself doesn't tell us anything, because the fact that she was arrested on a prostitution charge doesn't even mean she was working the street. She very well might have been a young black woman with a Texas prostitution record who happened to be in public. It's an officer's word against yours. But that she was working so soon after an arrest points to making looser decisions about what clients you see and how you screen because you're under duress.
T: When I was younger and had run-ins with the police, my attitude was fuck you, and I'm not going to show up to court, and all that. She might have been making decisions under duress, or she might have had that feeling of invincibility. It's also often a condition of youth to have an absolute hopelessness, especially if you don't think that you'll live to be 30. When society is telling you that you have less value than other people, when your life expectancy is statistically shorter, maybe you just say "fuck it." Maybe she said "Fuck it, work is work, and this is a fancy hotel and I'm going to make a ton of money."
RH: It's incredibly difficult for us to talk about violence. As sex workers, in queer communities, and, I imagine, in communities of color, it's very difficult to talk about violence because every force around you wants to pigeonhole you and your community and declare that violence is endemic in your life. It's really important for us to acknowledge violence on an individual and a community level, but it's really hard to talk about that amongst ourselves let alone to an outside audience.
T: I'm thinking about what you said earlier about how outsiders don't want to humanize these women because it would force them to think about why these things are happening. There's a fear that if I talk about my negative experiences, then someone is going to blame me for having them. I can't talk about my reality without fearing that I'm going to be discredited. I really love my job and have had very few bad experiences, but sometimes I'll have a hard day at work, and people treat those days like they're expected. Because we've made choices that make us responsible for the oppression and violence and perpetrated against us. Like you said before, sex work in itself is not a negative choice, and people who haven't done it can't know the plethora of benefits it offers us. But we can't publicly discuss our jobs and treat them with the legitimacy they deserve. Even if we have great, rewarding working lives, the threat of structural violence is always there. We don't have the luxury of responding to it without being dismissed.
RH: It's hard for us to talk about violence the way it's hard to report a rape, because the culture at large is very willing to say that you brought this on yourself. Saying that you brought this on yourself is saying that you deserve this.
T: There was a killer, or likely more than one, in the Minneapolis area in the 90s murdering prostitutes and my godmother was one of the victims. He left her for dead but she survived. In all, I think 34 prostitutes were killed. Violence against sex workers affects us because even when it's not happening to us directly, it's targeted at all of us. It's a crude reminder of that. Not only do you feel a tremendous amount of sadness for this person who was a member of your community, you feel scared. Which, by the way, doesn't help your practice at work. You want to have a clear head, you want to be capable and strong and you don't want to be paranoid.
RH: It's not necessarily about feeling more at risk; it's about feeling too emotionally vulnerable.
T: And feeling really destabilized.
RH: The chance of you or I dying in a car accident is infinitely higher than the chance of being murdered at work. After a car accident, no one says, "They brought that on themselves by getting in a car and putting it on the freeway."
T: Totally terrified of freeways, by the way.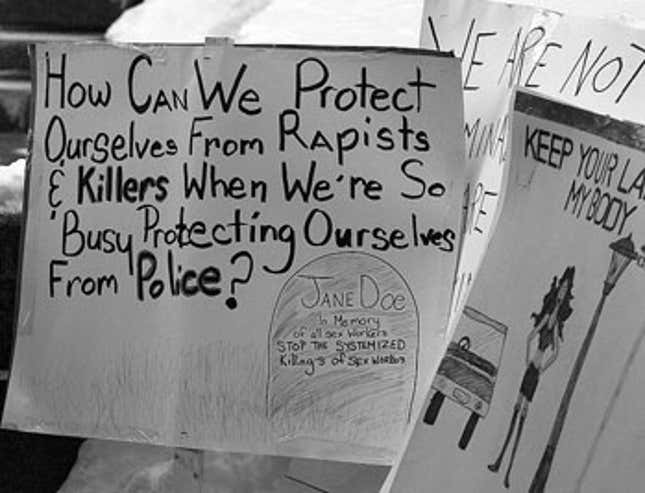 Via Sex Professionals of Canada; photo by John Bonnar
RH: Yeah, me, too, and that's not paranoid; it's realistic to be afraid of dying in a car crash. And I'm not afraid of being a prostitute. What something like this triggers, though, is not a fear that my work will result in violence. What's triggering is that the world thinks that I deserve violence because of sex work, or that violence is the direct result of sex work.
T: It's like the concept of the second rape, when a survivor of rape chooses to prosecute their rapist or seek mental health care and they experience that secondary rape. And in thinking about these three women who were murdered in Chicago and the way people don't care and how they talk about them. The absence of vindication or justice or compassion or humanity, the normalization of violence, can be just as painful as the violence itself. It scares me to think about you, or myself, or other people I know intimately being reduced to this one thing. That we even have to explain that we and these murdered women and other sex workers have a richness of life and lives worth having is so degrading.
RH: I'd like to talk about the other forms of violence we experience as sex workers, the subtler violence that all of us deal with. Most of it happens outside of work.
T: I think the connection sex workers have with each other has a lot to do with what we're all afraid of, across the spectrum of people who do this work. We're afraid of being harmed, and alienated; we're afraid of the police, and we're afraid of getting arrested because of how the criminal system is going to treat us.
RH: Everyone I've ever spoken to in all parts of the sex trade and from all backgrounds, arrest is a violence we're all afraid of. We're not walking victims. Even if we're in this for shady reasons, in shady circumstances, we're pretty incredible survivalists. When you're arrested, though, you're subject to a whole new level of legally sanctioned violence, and that's where things go beyond our control.
T: And that's scarier in a lot of ways than what an individual can do to you. The way the legal system runs a fine-toothed comb of judgment over people's lives, the fear of arrest and how a cop is going to treat you, the fear of what'll happen to you in jail, the fear of being dehumanized and raped, and what happens when you have a prostitution arrest on your record, what happens when you're trying to get other employment with a record, what happens with your children. People who have children really, really suffer when they're arrested for prostitution. It can disrupt your life for years. That can be so much more destabilizing than a single incident of violence.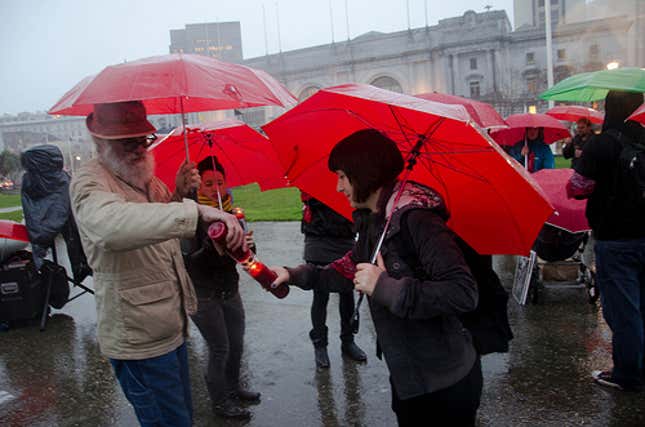 International Day to End Violence against Sex Workers in San Francisco; photo by Steve Rhodes
RH: I've never had a violent experience at work, but I have experienced violence outside of work as a sex worker. I've had violent experiences in health care settings, which is really common for sex workers, and for trans people, too. Which is not to say that all medical professionals stigmatize sex workers-many actively fight that-but it's not uncommon. Trans people and sex workers are denied medical care and dehumanized by their doctors so often. I've had numerous bad experiences in health care settings, and I'm someone who's walking in with a solid skillset for self-advocacy as a patient. If I'm having a hard time, you wonder...
T: ...how much this is shutting someone else down. Will they even go to the doctor again.
RH: Or lie to their doctors. I've starting lying to doctors about what I do because I've had so many bad experiences. There's something that happened to me, I don't know, seven years ago that still haunts me really badly. I had an abnormal pap and went in for a colposcopy. I was seeing an OB-GYN who'd come highly recommended, and she was really terrific through the first few minutes of the appointment, which was great because I was going into it with a lot of anxiety. And then she asked me how many partners I'd had in my lifetime. I explained that there were a lot, and why, though work is really only part of that. From that point forward she proceeded to treat me like shit. Like a non-human, diseased object. She refused to answer questions about the procedure being done on my body, didn't take any care in how she physically handled my body. I've never felt a doctor handle my body so roughly. She did a cervical biopsy, which really should feel like a small pinch but was incredibly painful, either because of the way she did it or because I was already so upset by the way I'd been treated. She inserted two tampons to stop the bleeding and told me to leave them in for eight hours and I left in a lot of pain. I was in excruciating pain for hours. Nothing I tried was even dulling the pain. When I took the tampons out, though, the pain went away immediately, because this doctor had left a cardboard applicator on one of the tampons. She cut off a piece of my cervix and then left a piece of cardboard in my vagina. It still horrifies me to think about it.
I think about the way someone who lives in Lakeview hears about the murder of a young trans woman in Austin. From their perspective, it's normal that this violence happens, and it's not worth them caring about it. For someone who lives in Austin, or for you, watching your godmother experience violence... the experience on the inside of that... I'm trying to make the distinction between the normalization of violence in your own family and community and what that looks and feels like, normalization for the sake of survival, and the normalization that's imposed on it by outsiders.
T: When you're inside of that violence, it's not in the interest of your survival to feel persecuted. You don't have time for that. It's not helpful to your psyche, or to raising your kids, or to loving anybody. It's too traumatic and destabilizing. No one wants to be a victim, and you have to make choices to fight and have self-respect. People telling you that you could make other choices feels like aliens are talking to you. Telling people they could make choices that are like yours is not only disrespectful to that person, but totally egotistical. You're assuming that you have a life that we'd want. A lot of us don't. We don't want your life. I think a lot about how those of us who are looked down on as trash, we deep inside of ourselves feel like, "No, you're trash for thinking that we're trash." People who think that other people are disposable? We're going to think that you are a heartless piece of trash. We work not to think that way, though, because it's damaging.
RH: We don't want to share your values.
T: We just don't want to do what everybody else does, and the risk is sometimes worth it. These three women probably knew the risks, and knew some people thought less of them, but I'm sure they also had a lot of pride and self-love. That was my experience growing up: people were smart enough to have pride, against the odds. It's a survival tactic. It's overwhelming for me to think about how many people I know who have really been shit on their whole lives and have this incredibly loving, forgiving nature. It's something that I struggle with.
---
Robin Hustle is a writer, artist, and musician living in Chicago. She is the editor of the Land Line, a collaborative print journal, and self-publishes the zines Curdled Milk, Leftovers Again?! and Mirror Tricks. Her writing has appeared in $PREAD Magazine, Vice, and the Journal of Radical Shimming, and her visual art has been exhibited in group shows at Woman Made Gallery, Roots and Culture, and Gallery 400. She archives her writing and drawings at robinhustle.blogspot.com.


Further reading:
Some Things to Consider When You Think You Want to be a Prostitute
Trafficking in Wrongs: Why Californians Need to Vote No on Prop 35 and Why the Rest of Us Should Care
An Interview With the Man Who Pays Me to Burn His Feet With Cigarettes While He Masturbates

Illustration by Jim Cooke.