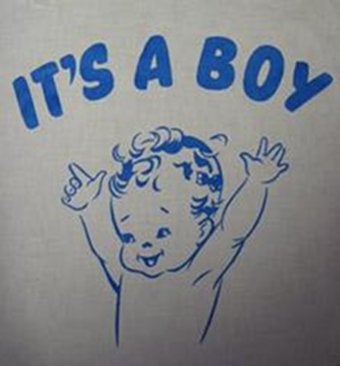 We've met reluctant dads and bad mothers. We've met moms who didn't want girls. And just so no child will be unscarred by a Google search in 2010, here are mothers terribly disappointed to have baby boys:
The MSNBC headline really says it all: "It's a boy? Disappointment plagues some moms." Of course, "gender disappointment" exists (as we know) in both forms. But for mothers who've been dreaming of girly bonding - or those, like my grandmother, who have four boys - the boy regret is apparently more common. As one mother quoted in the piece puts it, "There's not going to be any pink dresses. There's not going to be any scrapbooking. That's not going to happen."
Therapists quoted in the piece recommend that those who are super hung up on one sex find out in advance so as to deal with the disappointment. And now there's a resource: Altered Dreams: Living with Gender Disappointment, written by one mom whose sons will, hopefully, never check Amazon. I mean, surely at some point "gender disappointment" turns into "having a baby boy," right? This isn't the 19th century, where a father can't look at a girl without seeing the heir she should have been. And the moms quoted in the piece are sure to affirm that they love their sons, even if one of them "sometimes looks at her son and wonders, just for a moment, what he would look like as a girl." Well, if she's really curious, she can do what one of my friend's mothers did: dress him in dresses and bonnets because, dammit, she wasn't going to be cheated out of the pink.