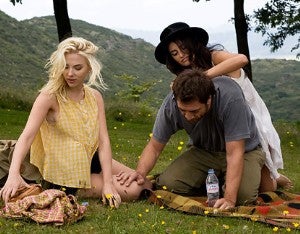 Woody Allen's latest film, Vicky Cristina Barcelona, might not be the return to the earlier, more beloved Allen comedies that critics continue to drool over, but it sounds like it's still worth the price of admission. The film follows two American friends, Vicky (Rebecca Hall) and Cristina (Scarlett Johansson) as they vacation together in (you guessed it) Barcelona. While there, they meet the handsome Spanish artist Juan Antonio (Javier Bardem) and his suicidal artist ex-wife, Maria Elena (Penelope Cruz) and engage in various love-triangles revolving around the Spanish stud, including a three-way that actually isn't that big of a deal. But aside from gorgeous actors and scenery, how does the film fare with critics? Pretty well, actually. Read the reviews after the jump.Wall Street Journal:
American girls abroad — it's a subject that has provided rich material for writers from Henry James to Edith Wharton, from Louisa May Alcott to Cornelia Otis Skinner to Laurie Colwin. Now, in the beautiful if insubstantial pastel "Vicky Cristina Barcelona," it's Woody Allen's turn as he chronicles the sentimental education of two young women on a summer idyll in Barcelona.
I hope it's not too bourgeois of me to point out that for a director who is trying to make a worldly romantic comedy, this is quite a shallow and jejune point of view. (It's why the '60s had to end.) Vicky Cristina Barcelona is a movie of distinct pleasures, a number of them of the travel-and-leisure variety (never mind all that wondrous, dripped-candle Gaudí architecture - what's really fabulous is the long lunches in which people linger over wine). The writing is zippy, the story spins like a top, and Bardem turns out to be the wittiest of leading men, making Juan Antonio a seducer who is almost innocent in his games. As for Hall and Johansson, both of them have lovely presences, yet Vicky and Cristina, as characters, never quite transcend the schematic. They are mind and body, spirit and flesh, strait-laced and free. In Woody Allen's perpetual counterculture, never the twain shall meet.
Maria Elena and Juan Antonio give the film such a twinned jolt of energy that you may wish it would head off into Almodóvar country, but that wouldn't be true to Mr. Allen, for whom desire remains an agony. Still, he's enough of an entertainer to give the audience its pleasures, which partly accounts for Ms. Johansson. She isn't much of an actress, but it doesn't terribly matter in his films: She gives him succulent youth, and he cushions her with enough laughs to distract you from her lack of skill. The appealing Ms. Hall, whose jaw line and brittle delivery evoke Katharine Hepburn, furnishes an actual performance, one that, tinged with sadness, makes evident that this is as much a tragedy as a comedy.
A witty, engrossing and well-crafted musing on the capricious nature of love, the film also is a valentine to the city, which is almost an additional character. Its visual splendors are displayed in a sun-dappled light with special regard for its striking art and architecture, particularly the work of Antoni Gaudi. Allen seems to have been reinvigorated since he began filming in Europe.
"Vicky Cristina Barcelona" is different because it's really about Vicky and Cristina, and Juan Antonio and Maria Elena. This time Allen's philosophical musings emerge subtly from the interaction of these characters and their choices instead of through trademark dialogue. Though he relies too much on the curt observations of an omniscient narrator, the movie still feels more casual, more painterly, more about great characters than the invocation of Freud or Balzac or Ernest Becker. Through these characters and the natural performances, and without worrying about landing punch lines or wringing hands, Allen lets the movie unfurl toward a sublime conclusion and final shot, the kind that makes you sigh with gratitude (or relief) that he's in firm control of this phase of his career.
Despite an awkward, third-party narration in an academic male voice (belonging to Christopher Evan Welch) that analyzes the characters as if they were test subjects in an anthropology experiment, the film may be the least abstract of Mr. Allen's more recent efforts, and the least yoked to the filmmaker's signature affectations. Perhaps, in all its talky inconclusiveness and postcard vistas, "Vicky Cristina Barcelona" is not very different from one of the more trivial Eric Rohmer comedies, all about the eye candy and some vaguely risqué business regarding the rules of attraction. But in its best moments, when Mr. Bardem and Ms. Cruz lay siege to the screen, reveling in their fever-bed chemistry, it's as if Mr. Allen has stumbled into an alternate universe - one where his movies are actually worth watching again.
NPR:
No matter what you end up thinking about Vicky Cristina Barcelona, it's hard not be entertained by the Oscar-winning Bardem, who eats this role up like it's a hot fudge sundae. In fact, Bardem and Penelope Cruz, who plays his ex-wife, are so good they make the film seem better than it is. The problem is that Vicky Cristina Barcelona is too intent on being taken seriously to end up being more than mildly diverting. Allen himself has said in interviews that this was a film about relationships, not a comedy - and he's right.
There are no easy answers for either Vicky or Cristina even in voluptuous Barcelona; the city serves extensively as the film's fourth muse, making for delectable summer entertainment in time-honored travelogue fashion. But there is much more as well in the seriocomic intensity with which Woody contemplates his three contrasting goddesses of desire, and their assorted womanly impasses and vulnerabilities. I hope this film will confound his army of naysayers by becoming a huge commercial success. It is already an artistic triumph of heroic dimensions, considering that it has come much closer to the end of a career than its beginning. The magnificent acting ensemble alone is worth the price of admission.
Time:
Whenever Bardem or Cruz are on screen, VCB finds its heart. It sees them as fully in tune with their feelings: totally willing, and why not?, to act on impulses they've learned to trust. The Americans are children by comparison, a little stiff, so conditioned to overanalyzing every attraction that they would lose the moment - if only there weren't a Don Juan Antonio to send seismic shivers up their consciences.
A whirling vortex of jealousy, passion, and lust, spewing her words in a melodic rush of English and Spanish, Maria Elena is at once too much to handle and the closest Vicky Cristina Barcelona comes to offering up its vision of the ideal woman. (And yes-ironically or not-she's also the one most likely to put a knife in you.) Surely, this will prompt the cultural guardians who remain unwilling to parse Allen the filmmaker from Allen the public figure to condemn Vicky Cristina Barcelona as an untenable defense of loose morals and male piggishness. But I for one found something oddly elating in the movie's conviction that it is better to have made passionate love and maybe almost died at the hands of a jealous mistress than never to have loved at all. To quote Guy Lombardo and His Royal Canadians: "Enjoy yourself. It's later than you think."
The way the women play against Bardem is fascinating. Rebecca Hall, a twenty-six-year-old English actress from a theatrical family (her father is the director Peter Hall), is tall, with a long face and a wide smile-she can look radiant one minute and neurotic, tense, and gloomy the next, as if she were channelling Allen's stumbling anxieties (a common reaction in actors working with him for the first time). With Bardem, Hall goes back and forth between desire and panic, and she's touching as none of Allen's other female characters have been recently. Scarlett Johansson, who is still only twenty-three, has appeared in an amazing number of movies. There's no mystery why: she's charming and also pliant and openly sexual in a way that obviously pleases male directors. She's at a stage in which her sensuality is more developed than anything else in her personality, but that configuration works for her this time. Going to bed with an attractive man is not going to tell Cristina all that she needs to know about herself. Allen has successfully captured a spirit of restless indeterminacy. Does Cristina have any artistic gifts? Before the summer is over, she begins to stir.
PS: For all you Allen-fiends out there, check out this short documentary about Woody Allen by Jean-Luc Godard. [via Videogum]
'Vicky Cristina Barcelona' opens today in wide release.