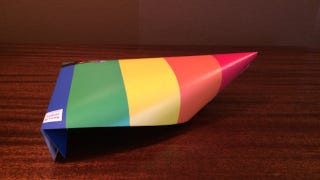 Hey, all you origami lovers out there: go back to folding paper, and then folding it again, because I have here a grave offense to your craft.
TerribleOrigami ("Putting the OMG in origami") has dealt a harsh blow to earnest crafters 'round the world with an Etsy shop that wants your laughs, not your dollars. (Note: they also sell t-shirts, so they probably do want your dollars.)
Created by some guy named Nate with not a ton going on in his life right now, TerribleOrigami boasts such wares as:
Brown Bag Fist, $83
Honey Nut Chariot, $100
Fortune Cookie Accordion, $96
And my personal favorite, THE FROG (it's a frog) THAT TURNED ETSY UPSIDE DOWN, going for $250,000 (only 1 available)
The Frog, $250,000
Art is an investment, you know?