Sartorially speaking, if fashion's prom night is the Met Ball, then the CFDA Awards is the cast party for the high school musical in the back of the weird restaurant in town that is not quite a diner but not quite fine dining.

Well, technically, the CFDA Awards are a bit more highbrow than that. The ceremony took place Monday Night at the Brooklyn Museum, honoring Naomi Campbell and also saluting Gigi Hadid's choice to wear this catsuit—a look that I have stared at for the better part of an hour and decided that I love.
Other people wore clothing—most of it good! Let's see.
Look at ALL these people in very fine suiting! This color on Diane Lane is stunning. Busy Phillips is wearing what I imagine a mermaid would for a job interview and I love it very, very much. If those are freakin' plissé pleats on Amandla Sternberg's big, ol' flared pants, I die. And finally, Whoopi Goldberg needs to wear color more often, specifically this shocking fuschia with the hat to match. Props to Cristian Siriano, oui?
G/O Media may get a commission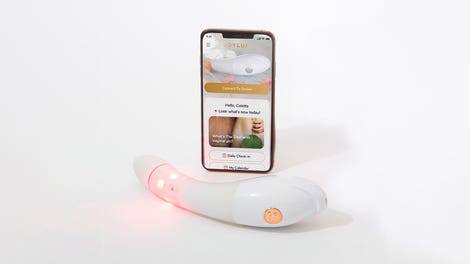 $50 Off
Joylux vFit Gold Device
And now, some looks befitting a modern day principessa, in very different courts. Here is Sara Sampaio doing like, American princess if we had princesses that were somewhere between the Kennedys and the Kardashians. This is a nightgown, Jean Campbell, but I will let it slide. Josephine Skrivner's nude illusion fantasy is a figure skating gown multiplied by 1,000. Karlie Kloss—all right, it's fine, not the most exciting, but you always look good because you are tall and also pretty!!
Here we go! Host Issa Rae looks radiant in this blue spangled frock and her belt reads "Every Nigga Is A Star" which is the title of a Boris Gardiner song, sampled by Kendrick Lamar for his 2015 album To Pimp a Butterfly, okay! This crop top/ball gown look on Joan Smalls is honestly aspirational to me, a woman who thought about wearing something like this to my junior prom. Lineisy Montero is a beautiful model which means that this frock looks better on her than it would on most—this peach tulle??! And yes, Lupita N'yongo, I see you there and I am here for this structure.
Parkland survivor Delaney Tarr looks good in this chartreuse velvet wrap dress, which is TRICKY, as this color is good on maybe two people, tops. I feel we've moved beyond this spiderwebby black lace and matching panty ensemble that Daria Stroukous chose, but you know, maybe I don't know anything at all! Dylan Lauren, madam..... what? Finally, EmRata looks dour and miserable, as befitting her corset and mantilla-esque lace sleeve situation.
Mary Kate and Ashley Olsen are nothing if not delightfully consistent. Brooke Shields looks like an art librarian with a lot of money and an apartment with a view; this dress on Cate Blanchett is nice, and finally, Chanel Iman looks nice because, again, she's a model, but this dress! Looks great!

Ooh, yes, fashion people. The good stuff. Donatella Versace will always dress like this, and you know what, I'm okay with it, for consistency is key. Here's Diane von Furstenberg NOT wearing a wrap dress—standard. Not loving this dress on Anna Wintour, but uh... there's that! Ralph Lauren went for black tie on the top and mid-life crisis rock climbing dad on the bottom; shouts to Ricky Anne Loew-Beer for working this suit.
Diana Agron of Glee fame wore a pink dress that could've fit better This leather frock of Claire Danes's is the chicest maternity garb, designed, I'm sure, by Narciso Rodrigeuz. It appears that Alexandre Birman designs devastatingly sexy and expensive shoes; perhaps his date Laura Love is wearing them underneath this strangely chaste bridesmaid dress? Carolina Herrerra looks wonderful and Caroline Kennedy does too!

Of all the Kardashian-Jenners in attendance, I must say that Kendall's feathered moment is the best of the bunch. Kim's hair looks stellar and I'm sure this crop top skirt situation is wildly expensive and chic in a way that I will never understand but I feel it's lazy!!! Try harder! Laura Harrier's suit is the right amount of casual and fancy—the yellow shoe is a nice touch. This color on Precious Lee is divine, but I wish the pants had been hemmed a touch more. Show me the shoes!!
Ah yes, some women in black suits. Katherine Langford is young and cool. Kourtney Kardashian continues to be the best-dressed Kardashian on the red carpet, and I love, love, love this black suit and I wish her freakin' sister Kimberly would take a page from her book and do some shit like this. Good for Cleo Wade for wearing these lil' sneaks.

Let's get into some color! Here's Michelle Smith and Leomie Anderson, in colors reminscient of Rihanna's Kilawatt Foil eyeshadow/highlighter palette in the Sangria Sunset x Mimosa Sunrise colorway—a great look. I do not care for Ashley Graham's weird nude-colored dress but this all red jumpsuit on Candice Huffine is stunning. Look! At! Isaa Rae! Pulling off this electric honeydew pantsuit for her hosting duties! I love this color! Yes!!
Rosie Huntington-Whitley is clad in a confusing two-piecer from Altazurra, but I'd really love it if we all paid closer attention to her FACE, which was made up by Katie Jane Hughes, a makeup artist whose techniques I try to replicate with very poor results. Julianne Escobedo Shepherd's mortal enemy Virgil Abloh looks fine. I want this leisure suit that Roberto Rosselini is wearing because this precise shade of iridescent is one that I spend all summer chasing. When has Tracee Ellis Ross ever looked bad?? Never!!
Lotta prints. The good: Marley Shelton in this blue and green ruffled nightmare-turned-daydream and Irina Shayk in this acid green leopard print thingie. The medium: Lili Reinhart, I suppose and Sarah Paulson's off the shoulder floral snoozer. The questionable: Irene Neuwirth? What's happening here and why?
Tommy Hifiger is wearing a suit made from an L.L. Bean dog bed and his date, Dee Ocleppo is wearing a circus tent; ditto on the latter for Tae Okamoto. Nothing wrong with Toni Garn's look here, but nothing really standout about it, either. It is not surprising to me that a woman named Shelby Drummond is wearing a dress made of various plaids of this nature.
Let us cleanse our palates in the restorative light of Naomi Campbell's red fringed frock, which should move all of us towards a more dramatic, theatrical aesthetic for the rest of this summer and beyond.