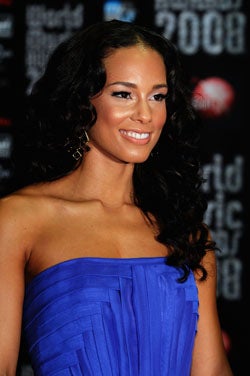 Funny, when I hear the words "world music" I don't exactly think of Alicia Keys, Solange Knowles, and Sophie Ellis-Bextor! But there they all were at Monte Carlo's Sporting Club last night for the World Music Awards. And, in fairness, they were surrounded by pop singers from several lands, in getups that ran the gamut from adorable to delightfully awful! The elegance, the baffling, the Swan Lake, the Ugly — after the jump.





The Good:
Estelle is clearly becoming one of my red carpet faves.

How do I love Sophie Ellis-Bextor? Let me count the ways...okay, I could only come up with, like, two, but this dress is darling.

Alicia Keys does elegant so well!

Ooh, loving Michelle Williams' green. (We'll give that jeweled neckline a pass.)

The Bad:
There's something mesmerizing about Solange Knowles' Swan Lake costume, but I don't think that elevates it to "Good."

Philip Kirkorov channels Liberace chic! Which isn't really a bad thing.

Kate Ryan's accessories kind of take her pretty dress swiftly towards "crummy."

Maybe if Valeria Marini had played this straight, it could have had a sort of deco glamor. As it is, she decided on the "Vegas" direction.

Let's move swiftly past Anastacia's girlish frock, shall we?

If Lola Ponce was going for early-90's nymph, I guess she achieved it.

The Ugly:
At least Philip Kirkorov is thrilled with Shafki's chocolate nightmare!

Getty" />