Honestly, thank god. Thank freaking god.
I already use ice cream to cure all sorts of things. A sore throat, hurt feelings, indigestion, boredom, and that strange silence that settles over a dinner table when people realize the main course is done. Now I can use ice cream as a conversation starter—hey, have you heard about that ice cream that cures hangovers?
According to Reuters, a Korean convenience store chain has rolled out a grapefruit flavored treat called Gyeondyo-bar, which translates loosely as "hang in there."
I don't know what that Twitter account is, don't click on it to ignite anything.
South Koreans are apparently Asia's biggest per capita alcohol consumers, and there's a huge market for hangover cures. Reuters writes:
Drinking, often in groups of co-workers, is big business in South Korea, and so are hangover cures, which generate roughly 150 billion won ($126 million) in annual sales, according to industry data, ranging from pills and beverages to cosmetics for women who want to keep their skin soft after a boozy night.

Those cures exclude the "hangover soup" that is a staple of Korean restaurant menus.
G/O Media may get a commission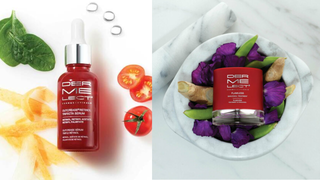 Save $19
Retinol Renewal Kit
Psy even featured hangover drink Hut-gae Condition in this video with Snoop Dogg, appropriately titled "Hangover":
The special ingredient in the majority of these products, including Gyeondyo-bar, is oriental raisin tree fruit juice, which has been used in Korean hangover cures since the 17th century. Scientists have since analyzed this home remedy and managed to prove that it at least cures intoxication symptoms in rats. Thanks, science.
If they know the special ingredient, I would love a bottle of this special juice to sprinkle on my greasy cheese omelette and hash browns, which is an American hangover cure passed down through the generations within my family. Together we can beat this thing once and for all.
Image via Twitter.