With his return to Twitter, Kanye West has re-established himself as the perfect vessel for fake deep right wing shilldom, and many of his fans have run out of excuses for him. To make matters worse, West's ramblings aren't just reserved for social media. New York radio personality Ebro Darden, from Hot 97's morning show, claims he had a 30-minute conversation with West over the weekend about his controversial tweets, and it was as much of a mess as you might imagine.
Throughout the conversation, according to Darden (see the video below), West talked about wanting to deprogram people and said his appreciation of conservative provocateur Candace Owens was due to the way she "challenges conventional black thought." Owens is best known for having a career that relies on the ethos "I'm not like other black women" and calling Black Lives Matter activists whiners.
Today alone, West tweeted multiple videos of his own computer screen as he watched Scott Adams—Dilbert creator, Trump stan, men's rights activist, and prick—marvel at the ways in which West is helping people break out of their mental prisons. To top it all off, Ivanka Trump is following West on Twitter (it's unclear when that started), and Donald Trump Jr. has been liking West's recent tweets. Cool.
When Darden accused West of being irresponsible with his context-challenged tweets, West allegedly said, "Look, I was going to tweet and give some context, but I thought...let me just take this heat right now, and maybe people will understand when I put the music out."
It's clear that West's tweets are a publicity stunt, but at this point it's naive to believe it's nothing more than that. Kanye is perfectly capable of having trash politics and trolling for album promo at the same time.
G/O Media may get a commission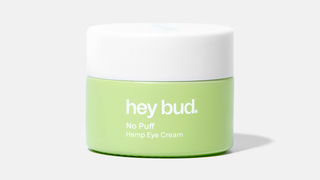 15% off
Hey Bud - No Puff Hemp Eye Cream
Here were some key highlights of the conversation, as told by Darden:
"We went back and forth about a number of things. I told him I thought he was coonin' for cash. Being in the lobby of Trump Tower, I thought that was a coon move, cooning for cash. And he was like, 'Why, you think I'm gonna make more money because I'm saying the things I'm saying?' I said, 'Yes, because the bankers, and the executives, and the right-wing folks, and the audience that wants to hear a black man say these things, to separate himself from other black people will celebrate that…'"
"Multiple times through the conversation. [Kanye] said, 'I just wanna lead with love. I just want to be about love.' And I said, you're a liar. Because the people you're aligning yourself with aren't leading with love...Then he said, 'I do love Donald Trump.' Kanye West, quote: 'I love Donald Trump.'"
"I challenged him and I said, 'Man, you know, the problem is you live in a bubble in Calabasas, California around a bunch of rich people and it's rubbed off on you because you're not in touch. And he was like, 'How am I not in touch? Nobody's fixin' what's goin' on in Chicago!' I was like, 'No, there's a lot of people. Have you talked to G Herbo? Lil Bibby? Lil Durk? Chance? And people who are still doing work in Chicago lately?'"

[Hot 97 co-host Laura Stylez adds, "Have you talked to Common?"]

"Have you talked to your friend Common? Great point. I didn't say that but that's a great point. He was like, 'Well, I reached out to Obama for years, and I couldn't get anything done. And Trump gave me a meeting.' I said, Trump played you bro. Trump didn't give you a real meeting. You met at his home in New York City. A real meeting woulda meant you went on that White House schedule and you woulda went up to his new job at his new office and had a real meeting on his job, on that time. 'Oh, well, he's busy and this and that.' He's too busy? He's too busy? You're sure?"
"[Kanye] knows that the conversation is hot right now. Kanye was talkin' about, 'Look man, I just want people to have open dialogue.' And I'm like, Kanye, the dialogue's been open. You're not here, fam. You're in Calabasas, with your wife and kids, hanging around people who don't look like you. In a bubble in La La Land."
While there is no audio of the conversation to confirm Darden's claims, Darden's paraphrasing cements much of what we've deduced about West since his infamous photo op with Trump in December 2016: He's like the guy who thinks that saying "just to play devil's advocate here" means that something of value will follow. Longtime fans may view West's new alliances with abject horror, but at least West can turn to his new fans for support: Red pill-ers, MRA weirdos, Turning Point USA nerds, and the Trump clan.