Despite the fact that CBS issued a memo warning not to show off breasts, buttocks, or any "puffy" bare skin, celebrities attending the 55th annual Grammy Awards last night embraced sheer fabrics, exposed breast curvature and even displayed nipples. That said, it wasn't a very exciting night for fashion; there were pretty gowns, but barely any bizarro gravity-defying avant-garde ensembles — perhaps because neither Lady Gaga nor Nicki Minaj were there? In any case, it was a mostly classy affair with few style missteps.
Starting us off with some tacky: Riff Raff and his bedazzled cough syrup bottle necklace.
Phew, that's better: Drake, impeccable.
G/O Media may get a commission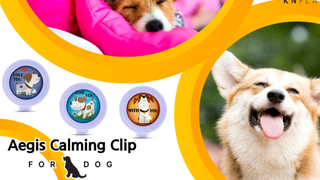 20% off
Aegis Calming Clip for Dogs
Nas looks at home in a throwback tux. Dave Grohl and Jordyn Blum do black and black and white. Neal Patrick Harris and David Burtka are a dashing duo.
Frank Ocean's blue jacket could have been more formal if he'd picked a different shirt. Trudie Styler and Sting are effortlessly elegant.
Variations on a tuxedo: Ed Sheeran and Juanes do the modern straight tie. John Mayer stands out in indigo velvet, but somehow doesn't look as pulled-together as he should. Quincy Jones picks all black everything.
Jay Manuel must have had a terrible bleach accident. Sway is snazzy in a three-piece suit. Skrillex dragged his most formal jeans out of the closet. Mario Lopez's swell Sixties skinny suit is the best in this bunch. Well done.
Red Foo seems to be wearing knickers? Another slim suit and tie on Gotye. And Justin Timberlake has a tidy two-tone pseudo-Sinatra thing happening.
Jack White in black on black, maybe channelling Johnny Cash? Chris Brown in all white for inner peace. Rick Ross = boss.
In glittery gold: Nicole Kidman, matching her husband Keith Urban's highlights.
Thank Zeus Kimbra showed up, otherwise we'd have zero "WTF is that?" moments. This is part birth of Venus, part barnacles stuck on a pirate ship figurehead. Into it.
Kat Von D and Deadmau5, yes cat and mouse, dressed for a casual night at the movies.
Red was a popular color on the red carpet: Kaya Jones's gown has a flowy ancient Roman Senator vibe. Adele's dress may be controversial — with some claiming it looks like wallpaper — but it's actually chic and structured and classic and figure-flattering.
Skylar Grey defies CBS's sideboob ban. Natasha Bedingfield shows a little leg.
Love love love love Rihanna's custom Azzedine Alaïa gown. Were her nipples visible on live TV? Yeah. But the criss-cross neckline, the sheer layers, the epic train — all so gorgeous.
One of the most beautiful dresses of the evening.
There were other bright colors besides red: Kat Dennings in structured strapless blue.
Karlie Kloss's blue was even brighter. Lila Downs had a blue shawl to go with her wacky two-piece getup which I think must be inspired by her hometown of Oaxaca. Keltie Colleen's gown with cobalt skirt: Eye-catching or eye sore?
So Katy Perry's mint green gown isn't terrible, but it definitely washes out her skin, and the fact that she's doing a neutral lip color doesn't help at all. Her buddy Allison Williams is Team Slytherin.
More green: Florence Welch is reptilian. And Solange's bold shoulders are good.
Vivid violet for Shaun Robinson. Sunset psychedelic on Esperanza Spaulding
On to some darker hues. Trying to like Ashanti's sheer floral full-skirted gown, but failing. Carly Rae Jepsen's pewter slink is just okay.
Cute little metallic jacket on Jeannie Mai. Tamia is part 1930s, part 1970s, and all curves.
Janelle Monae's menswear-inspired getup doesn't seem comfortable, but the lip color is divine. Carrie Underwood's romantic gown is pretty, but not as spectacular as the one she wore during the show, which lit up.
Alicia Keys in snake-accented jewels to go with the snakeskin bodice on her gown.
Both Kelly Osbourne and Pauley Perette rocked basic black.
Black with sheer panels: Faith Hill gets one-upped by Kelly Rowland, who looks ravishing. (Though would a red lip be better?)
More black: Slinky and shiny for Amber Rose; a satin sheet with a slit for Jennifer Lopez; midnight blue-black on Miranda Lambert; and a dazzling column on Kathy Griffin. Everyone looks good, but also very safe and boring.
Beyoncé changed things up with a graphic jumpsuit and long ponytail. After a bunch of red and black flowy gowns, it's nice to see something actually refreshing and different.
There were a few pale-hued gowns last night. Bonnie McKee just needs a shield to go full-on valkyrie. Meanwhile, Mika Newton looks like a gentle snowfall.
Bright white lace is fine on Anoushka Shankar, but Rocsi Diaz's bright white jumpsuit is better. And while the design — folded and stitched sheer fabric — on Giuliana Rancic's gown is interesting, the beige color is a snooze.
Alexa Chung's springy frock is cute, but the best parts of this look are her fab lip color and those awesome shoes.
Finally: Is this one of the best Taylor Swift ensembles ever? Sure, she's doing that ivory/cream/purity thing she does quite often, but silver straps on this J. Mendel dress add a fashiony edge and the eye makeup is perfection. And the sweet/sexy hair works so well. Rivaling Rhianna for best dressed.
Images via Getty.