As previously posted, the Life magazine photo archive is now available online. The collection is estimated to consist of more than 10 million photos, many of which were never published in the magazine and only exist as negatives, slides and etchings. You can search the collection for historical images, and if you want to purchase framed prints, you can do that, too. We'll be taking a look at women in several decades (previously: the '30s and the '40s) and today, the full-of-change 1950s. The photos begin after the jump.
Attractive young woman in Manhattan, 1953.
Loving the shoulders, loving the glasses, loving the slender, delicate wristwatch.
G/O Media may get a commission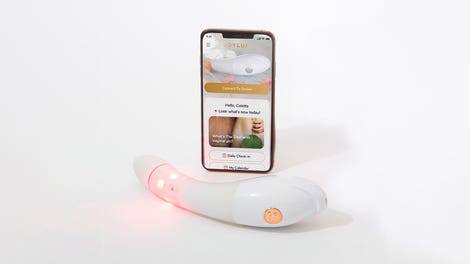 $50 Off
Joylux vFit Gold Device
Woman working in office, New York, 1957.
This lady must have a cool job, what with the cropped hair and the black and the arty supplies. Ixnay on the iggarettesay, though.
Typical secretary working in office, New York, 1957.
Oh dear.
Teenagers spending evening at movies. 1957.
Check out his little pompadour and her little flats!
Woman wearing wide shoulder fashion look, 1959.
Oh, so that's how to make a waist look microscopic: Wide, wide shoulders!
Model blowing on red feather boa & wearing large rhinestone earrings & bracelets for article featuring "the little red dress."
Bring back the little red dress!
Sculpture By Picasso
Four unident. models in red dresses dancing Charleston for article featuring "the little red dress."
No, seriously.
Seven African American teens walking the steps to the school, while the white students are watching on during the demonstration regarding school integration. 1956.
The '50s were not all fun and games.
A woman wearing a crab hat at the League of Women Voter's Convention, Atlantic City, NJ, 1958.
No idea what is going on here, but crabby women get my vote!
Actress Debbie Reynolds, 1950.
Can you believe that this is Carrie Fisher's mom?
Little girl model at fashion show. 1950.
Suri Cruise 1.0
Baseball great Jackie Robinson (in football uniform) w. wife Rae (Rachel) (C) and actress Ruby Dee (R) who is portraying Rae in "The Jackie Robinson Story," on the film's set, 1950.
Must find those shoes!
Actress Julia Adams is carried by monster "gill man" in the movie "Creature from the Black Lagoon," 1954.
"Mom! Dad! I totally found a girlfriend!"
African Americans dancing to the jukebox at the Harlem Cafe in Greenville, S.C., 1956.
Wouldn't you love to know what's on the jukebox? (This image is by Margaret Bourke-White, one of most accomplished female photojournalists of her time.)
Actress Elizabeth Taylor, 18, at graduation time, posing at desk in classroom at Hollywood's University High School, 1950.
No more classes, no more books. No more teacher's dirty looks. If you know what I mean.
Actress Laurette Luez (L) appearing in movie "Prehistoric Woman," 1950.
Note to self: Rent this movie.
Where ever this is, there must not be a heap of crime. Women get the job done!
Singer Lena Horne (R) and Lennie Hayton announcing they have been married since 1947. Paris, 1950.
Don't you want to sit in Paris wearing a lovely hat and some pearls and smile like this?


This photograph was taken backstage at a play by legendary photographer Gordon Parks, whose life was simply amazing. He shot quite often for Life.

French Fashion Models. 1950. By Gordon Parks
This Gordon Parks image seems worthy of buying, a framed print of these chic souls (and those Eames chairs!) would be a really nice gift. Cough.
Peruvian singer Yma Sumac, wearing native dress. 1950
Get to know the fabulous late Yma Sumac. Please.
Wives waiting impatiently for their military husbands to come home. 1951.
The more things change, the more things stay the same. Oh, and that one soldier is all, hmm, she is cute.
Portrait of singer/actress Dorothy Dandridge, 1951.
Stunning!
Hawaiians celebrating their admission to the US. 1959
This one is for the cheek-pinchers out there.
Debutantes! So much tulle.
Hollywood Community Chest Fashion Show, 1950.
Gorgeous dresses, and lusting after the chandelier!
Earlier: The Way We Were: Life Magazine Photos Of Women In The 1940s
The Way We Were: Life Magazine Photos Of Women In The 1930s