The Watergate Hotel, part of the complex that was the site of the break-in that brought down Richard Nixon and put a permanent dent in America's trust in its government, is being reopened after a thorough revamp. Apparently the key cards will boast, "No Need to Break In."
NBC News reports that the revamped Watergate just likes to have fun with it, you know?
When guests check into the newly renovated hotel next week after it has its official black-tie opening on Tuesday, they'll experience that history, with pens that say "stolen from The Watergate Hotel" and room key cards that read "No Need to Break In".

"We wanted to transport our guests to a glamorous time in history, back when The Watergate Hotel was a playground for powerful people," Rakel Cohen, senior vice president of design and development at Euro Capitol Properties, the group that owns the hotel, told NBC News.
It might seem impossible that Washington, D.C., circa 1972, could ever evoke glamour. But when the combo apartment/hotel/office complex first opened, it was hot shit. The Washingtonian covers what a sensation the Watergate was:
Life, Newsweek, and other magazines certified Washington's new elegance with splashy coverage. The New York Times photographed the wife of a telephone-company executive in their penthouse, her miniature poodle in her lap as she sat before a Louis XV fireplace salvaged from a home wrecked in Paris. The couple moved to the Watergate after tiring of maintaining three homes, she told the Times.
G/O Media may get a commission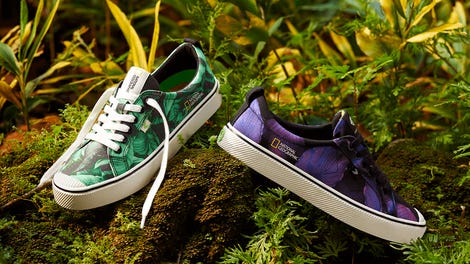 New New New
Cariuma + National Geographic
Though the decades since seen a long tradition of kitsch associated with the Nixon misadventure: "After the famous break-in, anything emblazoned with 'The Watergate' label became a hot commodity leading to thefts of hotel towels and robes and a boost in the sale of similarly labeled liquor at the complex," NBC News notes. And now that the complex is nigh on a half-century old, its modern sheen has long since worn off. And so the hotel's new owners, who've put years and millions of dollars into a major revamp, are laying the nostalgia on thick:
The hotel will follow through with the 60's feel with employees' costumes designed by Mad Men designer Janie Bryant and 60s-themed and a bar called, "The Next Whiskey Bar," named after The Doors' "Alabama Song," which has the lyrics, "Show me the way, to the next whiskey bar."
NBC News also promises the opening will include "'confidential information' on flash drives disguised as 60s-era tapes and the phrase 'if walls could talk' on black envelopes."
Tricky Dick would be so proud!
---
Photo via AP Images.