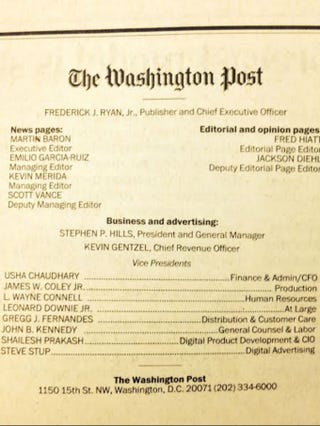 Say goodbye to women in major leadership roles at the Washington Post.
In yet another sign of the dwindling presence of women in journalism at major old guard media outlets, the Washington Post's masthead will soon feature nothing but men. According to Eric Wemple, Usha Chaudhary, chief financial officer and vice president for finance and administration for the paper, is set to depart for a new position with Pew Charities. That follows the exit of Publisher Katharine Weymouth, who was replaced in October by Politico cofounder Frederick J. Ryan Jr., when Jeff Bezos took over the paper.
"Together, these developments will leave The Post's masthead with absolute gender uniformity," writes Wemple.
But it's fine. With an all-male masthead, I'm sure the Post's editorial sidewill continue to be as sensitive and responsive as it's always been to the needs and concerns of its female staffers and readers.