Over the last year and a half or so, conservative lawmakers have been feverishly at work enacting laws designed to shove the whole government into your vagina, since it's for damn sure not going to be looking over your boss's shoulder to make sure he's not screwing you over. Here's a run-down of the War on Women, in convenient digestible bits that hopefully won't interfere with that pregnancy you're working on.
1,100
Total number of reproductive rights-related laws introduced by state lawmakers in 2011.
604
Number of abortion and reproductive rights-related provisions introduced at the state level as of June 1.
G/O Media may get a commission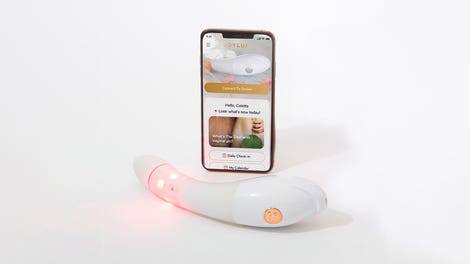 $50 Off
Joylux vFit Gold Device
8.2%
The US unemployment rate.
0
Number of jobs created by wasting time debating hundreds of reproductive rights-restricting laws.
408,425
Number of children who were in the US foster care system at the end of 2010.
96,772
Number of those children with caseworkers who said they were waiting to be adopted.
4,230
Number of adoptable foster children who would not have stadium seats if you tried to put all of them into the Rose Bowl in Pasadena, California.
25
United States' ranking on Save the Children's list of best countries for mothers.
0
Number of podium pounding speeches given by "pro-life" Congressional leaders on how embarrassing it is that the US has the fourth highest maternal mortality rate of any industrialized nation.
Between $2 and $6
Amount of taxpayer money saved for every $1 spent on birth control.
$11 billion
Cost of unplanned pregnancies to the US taxpayer — per year.
$11.2 billion
Amount Broadway musicals contribute to New York City's economy per year.
$3.71 billion
Facebook's net revenues in 2011.
12 zillion
(Est.) Number of extremely irritating, almost Broadway musical-level overwrought debates Americans have gotten into about contraception on Facebook.
$270,000
Estimated cost of raising a child from birth to age 17 in the US.
$10,784
Average amount of additional income an American woman would earn annually if she were a man.
$431,360
Amount of money an American woman can expect to be stiffed out of during the duration of her working career.
$16,704
Amount a woman can expect to spend on birth control pills that cost $48 per month, if she takes them for the duration of her fertile years.
99%
Percentage of sexually active American women who will use birth control in their lifetimes.
Between $5,000 and $20,000
Average cost of childbirth in the US.
142
Number of advertisers who fled Rush Limbaugh's radio show after he called activist Sandra Fluke a "slut" and sarcastically suggested she perform in internet porn videos in exchange for taxpayer subsidized birth control.
142
Number of seconds a non-masochist can listen to Rush Limbaugh talk in that voice of his before they want to hire a man with meaty forearms to temporarily disable their sense of hearing.
72
Number of hours the state of South Dakota proposes women wait between receiving an ultrasound and having a legal medical procedure. That's 3 days.
72
Approximate number of hours that Christians believe elapsed between when Jesus was buried and when he rose from the dead.
0
Number of things Jesus said about abortion or zygotes.
47
Number of Senators who voted against the Paycheck Fairness Act.
0
Number of Republicans who voted in favor of the Paycheck Fairness Act
445
Number of elected legislators currently serving in the House or Senate who are men, out of 538 total.
55%
Proportion of immigrants to the US who are female.
3.5
Times more likely a Native American woman is to be victimized by domestic violence than a white woman.
221
Number of House Republicans who voted in favor of a version of the Violence Against Women Act that stripped protections for undocumented immigrant, Native, and LGBT women.
0
Difference in human-ness between an undocumented immigrant, a Native American woman, an LGBT woman and a straight white American woman with a passport.
---
Image via marekuliasz/Shutterstock.