Today, the ladies of The View appeared on Oprah. O had the original table from The View's first season flown in for the special event for all the ladies to sit around it, Hot Topics style. It was more like a boring sleepover than anything, with the ladies sharing what they have in their purses. (Babs' keeps hard copies of everything from publications to her personal schedule in hers, while Whoopi didn't have a purse to show.)
Eventually, Oprah got around to confronting the elephant in the room: Elisabeth Hasselbeck. (Get it? Because she's a republican?) O asked her if she feels picked on. Elisabeth said no, but this somehow devolved into getting a quick verbal spanking from Joy. Later, O asked the women to describe each other in one word. Most got "super," "wonderful," "friend," while Elisabeth received "talkative."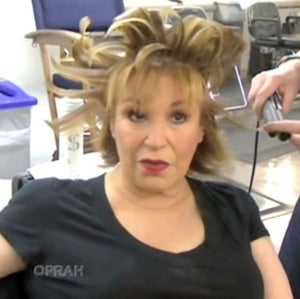 BTW, they featured some behind-the-scenes action of what goes on at The View. The most surprising thing was learning what goes on with Joy's hair.