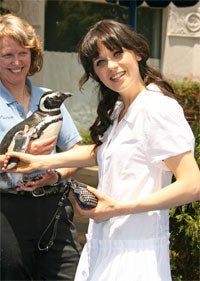 At the beginning of this month's Jane cover profile 'The Unstoppable Charm of Zooey Deschanel', writer Shelly Ridenour finds herself with the actress at a farmer's market. It's crowded, cluttered with street musicians and "family-run cheesy" but it's also "shiny" and "fresh" and "a little bit too predictable." Sort of, we might venture to say, like Zooey Deschanel, whose stubborn quirkiness is starting to make us wish she'd find a narcotic to abuse. But gosh! Such a cute dresser! (Seriously!) After the jump, all the actress' quirky attributes as pounded into our heads by Jane magazine.
Zooey: Taught herself to play ukelele because "I just think it's cute".

Zooey: Sings on "A Mixtape From Ben Lee".

Zooey: Occasionally performs with a cabaret act she formed called "If all the stars were pretty babies". What does that mean?

Zooey: Is an "amazing whistler".

Zooey: Likes to sing Linda Ronstadt songs at karaoke.

Zooey: Also sings for her friend/ex-boyfriend Jason Schwartzmann's musical project.

jason schwartzman's musical project is called coconut records

Zooey: Goes shopping at a store called "Dream Articles Apparel For People" where she buys a smock and a bunch of cute animal pins. At another store she buys heeled saddle-shoes.

Zooey: Fusses at Jane creative director Marie for smoking.

Zooey: Is unnerved by street musicians.

Zooey: Loves the website "The accent archive" at transbuddha.com.

Zooey: Hates sentence fragments.