Even as many people eulogize the long and distinguished career of Ted Kennedy, others are not shying away from an uncomfortable truth: that Kennedy's past, particularly with women, was less than perfect.
For many liberals, it is difficult to reconcile the two sides of Ted Kennedy. In his public life, he was a devout public servant, someone who put the needs of the poor and disadvantaged at the heart of his work. But in his personal life as a younger man, he was what some described as a drunk and a womanizer.
Biographer Edward Klein described, in Ted Kennedy: The Dream That Never Died, a drunken incident in Alaska in April 1969 when Kennedy began yelling "Es-ki-mo Power!" and saying "They're going to shoot my ass off the way they shot Bobby ..." After the trip, family friend Lester Hyman got a call from John Lindsey at Newsweek, who related the account in Alaska. "Your friend Ted Kennedy is in a lot of trouble psychologically.... There's something wrong, and if [Ted] doesn't do something about him, I believe something terrible is going to happen to him," Hyman recalled Lindsey saying to him.
It turns out Lindsey was right. On July 18, 1969, Kennedy was involved in what became known as the Chappaquiddick incident. Kennedy was driving home with Mary Jo Kopechne, one of Bobby Kennedy's former aides. As biographer Klein says, "Under the best of circumstances, when he was stone-cold sober, Ted was a terrible driver." But that night, as he drove down Chappaquiddick Road, witnesses note that he had been drinking for eight hours straight before getting in the car. When the car tipped off a rail-less bridge and landed upside down, underwater, Kennedy was able to escape, but Kopechne was not. Kennedy reportedly fled the scene, contacting the police 10 hours later after consulting with a lawyer, long after Kopechne had died from suffocation.
In today's Guardian, Joyce Carol Oates writes about the aftermath of the incident:
The senator's explanation for this unconscionable, despicable, unmanly and inexplicable behaviour was never convincing: he claimed that he'd struck his head and was "confused" and "exhausted" from diving and trying to rescue the young woman and had gone home to bed.
G/O Media may get a commission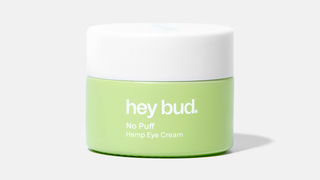 15% off
Hey Bud - No Puff Hemp Eye Cream
There is certainly no way to justify Kennedy's actions, even though he later plead guilty. His punishment was two months of probation. The incident ruined his chances at a presidential run in 1972. Instead the candidacy went to George McGovern, who lost miserably to Richard Nixon.
In an interview on 60 Minutes while reflecting back on the incident, Kennedy said,
I never looked at it, really, in terms of the questions of legacy... I think I've always wanted to try and be a better person.
Kennedy's past treatment of women, and the way he handled the Chappaquiddick incident show that Kennedy certainly was a complicated figure. He had moral failings and vices. But he also worked for real and tangible differences in the lives of almost every American through his work in the Senate. Sometimes it's difficult to examine the whole life of a public figure. After all, public figures are human, and humans can't be perfect. Sometimes, they don't even come close.
Ted Kennedy: The Dream That Never Died
Ted Kennedy: The Lasting Taint Of Chappaquiddick [LA Times]
Kennedy's Redemption From The Depths [Guardian]
Kennedy's Bad Boy Days [CBS]
Earlier: The Lion Sleeps Tonight: Ted Kennedy Leaves Long, Impressive Legacy