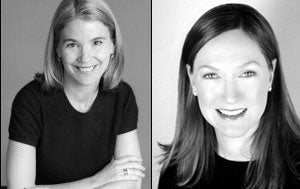 Meet Eva Dillon and Mary Berner, the two ex-Conde Nast publishers some people think are responsible for the downfall of Jane, the women's magazine that never quite managed to be what anyone wanted it to be but tried a lot harder than Glamour. The demise of Jane had been almost assured since Jane Pratt herself, the beloved/flaky founding editor of Sassy magazine, was forced from the magazine named for her in a nasty drama thinly fictionalized in the book Falling Out Of Fashion, which we recently read, and if anyone thinks Eva and Mary — or, ahem, "Liz Alexander and Ellen Cutter" — were the biggest problem with Jane, author and ex-Pratt assistant Karen Yampolsky seems to. In the book Liz and Ellen are ginormous Stepford-y bitches who may be gay for one another. And so much more!
They lie to their superiors about their circulation numbers and they make two sales calls on days their gracious editor makes twelve. They're rude to restaurant servers and they install their coke-addicted ex-subordinates in key editorial functions at the magazine. They spend most of their time jockeying and playing political games within "Nestrom Publications" and the rest of it going to fancy restaurants. But worst they don't really seem to understand at all what Jill — which is to say, Jane — is about. They don't care about pop culture. They don't care about indie rock. They try to woo all the wrong advertisers — a cokehead diva designer named "Graciella D'Alessandro," for instance — by forcing the Jane staff to write stories about them.
Falling Out Of Fashion is certainly not a tome of nuance or um much literary merit, but it highlights the unending problem of magazine publishing, which is why we're so obsessed with it: is it the fault of writers, or sales people, to sell a magazine? If producing a publication that is smart fails, is it the fault of the readers, or the advertisers? Was Jane itself too smart? Or too stupid?
This will um not be the last you hear from us on this topic.