Stephanie Seymour's divorce from media multimillionaire Peter Brant is ongoing, but the case is revealing a wealth of information about the ex-couple's, well, wealth. Every month, Brant spends $500,000 keeping his polo ponies and $30,000 on "household supplies."
Peter has been ordered to begin paying Seymour, his supermodel wife of 16 years, $270,000 a month in alimony and support for their three children. In the global context, $270,000 — every month — is a lot. That sum could buy 900 operations to repair obstetric fistulas in the third world, or pay for 60 new, clean water wells in Kenya. But in the context of Peter Brant and Stephanie Seymour, it's not very much at all.
According to court filings, Brant, who owns a paper company as well as magazines like Interview and Art in America, has assets of $490 million. His net monthly income this year — a pretty bad year for the media — has averaged just over $1.5 million. What does he spend it on? And might it just be possible to economize a little?
Well, for starters, Brant owns a farm in Connecticut. It's 200 acres, and the main house on it resembles George Washington's mansion at Mount Vernon. He owns "40 some odd" polo ponies, and maintains a fully sponsored professional polo team on the property. (He's disbanding the team and giving away the less valuable horses — that is, the $10,000-$15,000 ones.) The cost of all this? $500,000 a month.
G/O Media may get a commission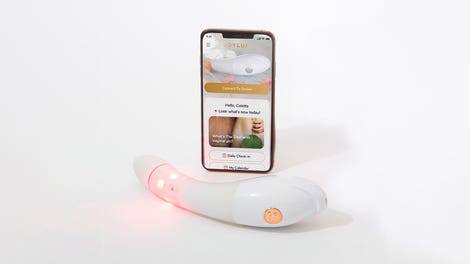 $50 Off
Joylux vFit Gold Device
Suggestion: It's a farm. Get rid of the horses and raise some soy beans. Or apples. Or organic heritage grains. Or whatever. Pronto.
Photo of Mount Vernon via Encyclopedia Britannica.


Maintaining his Jeff Koons topiary sculpture, Puppy — pictured here is the Puppy outside the Guggenheim in Bilbao; Brant's is an exact replica — costs up to $100,000 a year.
Suggestion: Invest instead in one of Koons' stainless steel sculptures, or perhaps a nice Anish Kapoor; we're thinking durable, shiny, and most importantly, low-maintenance. Realize extra savings by polishing it yourself.
Image of Puppy via Wikipedia


What's Stephanie supposed to do if she wants to go on vacation? $270,000 wouldn't even cover one week of kicking back, Brant-style: the 150-ft yacht Brant chartered for his and Seymour's kids this summer cost the mogul $300,000.
Suggestion: This paddleboat only costs $3,499.95.



Peter Brant gives $216,000 a month to his foundation, which funds his art museum, which is conveniently located across the street from his house. It features a rotating selection of the many works by Warhol, Koons, John Currin, Elizabeth Peyton, Larry Clark, and Cindy Sherman, that Brant owns.
Solution: Why not hang your pictures on the walls of your 20,000 square foot house? Also, 50 cents will get you into the Met.
Cindy Sherman's Untitled Film Still #7 via official website


Brant spends $30,000 a month on "household supplies." You know, everything from "toothpaste to towels."
Suggestion: CVS sells the jumbo size tube of Colgate Total Whitening for $3.99.


Brant has some suggestions of his own about how Seymour should spend her money. Last month, he alleged she had a $50,000-a-month shopping habit. The divorce court judge says Brant "said he did not understand why she was paying retail at Bergdorf's when she could get clothes, at a discounted price, from the atelier in Paris of their friend, the designer Azzedine Alaïa, who Mr. Brant considers to be the best couture designer of the 20th century."
Do you hear that, Stephanie? Most of us would be so lucky to save money by wearing only Alaïa.
Stephanie Seymour, Peter Brant Divorce Case Reveals Lavish Lifestyle [Stamford Advocate]