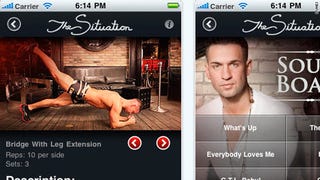 Pay $5 and The Situation will tell you where the nearest laundromat is. Or a gym. Or a tanning salon.
According to CNN, there's also a game called "Grenade Launcher," which you can be sure is incredibly charming. And! MTV has also created something called "Spread Snooki," in which you can add images of Snickers to pre-existing photos of yourself or your friends. But wait! There's more!
"Jersey Shore Yourself" lets the user upload a photo and add the tan, tattoos and adventurous hairstyles of the cast members.
The big question: Who the hell would buy any of this shit? What kind of idiot do you have to be?
A user review of The Situation app reads thusly: "Grenade dodger is lame as hell. Soundboard is staged. It's not quotes from the show but [Sorrentino] in a sound booth reading lines. Don't bother with this app. If you're a mike fan I still think you'd be disappointed."
And there you have it.