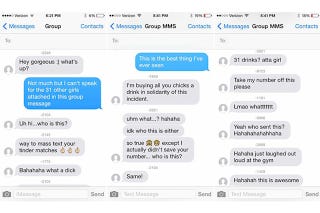 Once upon a time, a young prince named Joshua devised a foolproof, efficient way to find love: a mass Tinder text.
"Hey gorgeous :) what's up?" he called out to 32 fair maidens, who received his heartfelt opening in lands as varied as the gym, or London.
What feelings befell them when they opened up when they looked at their phones? Judging by all the "hahahahaha" tittering, the promises to take each other out for drinks, and the pledges to spread Joshua's romantic call for love far and wide through Twitter, these maidens were totally down to clown.
While Joshua is no doubt generous of heart, 32 engagements is still a lot for one to handle, so he carefully chose a select few maidens and sent them a special follow-up message:
A Prince Charming indeed! And of course the story ends happily.
Images via Elle.