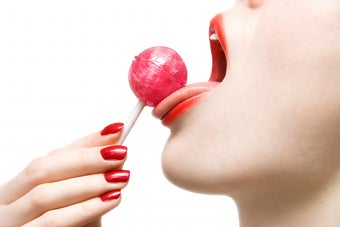 Give your man the thrill of a lifetime with these unexpected bedroom tricks:
A few proven — and we do mean proven — ways to keep the spark alive:
Winking During Sex: There are few things more startling — not to say unnerving — to your man than a big wink mid-coitus. Call this the new sexyface! This should not be subtle, but an unambiguous, popeye-esque salute worthy of a creepy old man. If possible, contort your mouth into a roguish, half-open grimace. Especially effective when a partner is attempting to look into your eyes lovingly.
Creative Name-Calling: Dirty-talk is so played out. So, go off-script with something completely unexpected. A proven winner: "You...MATRIARCH!" But references to defunct political and philosophical movements are also effective at shaking things up. Moan "Oh Bolivar," and he's yours.
Unexpected Costumes: Forget role-playing. The unexpected costume can only be pulled off if there's some chance of diversion, but it's worth it. A partner reaching for protection is a perfect chance for a quick-change; having someone turn back to you only to find you sporting a chef's hat, beanie, or pair of novelty glasses is guaranteed to create fireworks.
Conceptual Role-Play: For traditionalists, how about a twist? A few proven scenarios: the giant stone head on the lawn of the Boston Museum of Fine Arts meets the Old Man of the Mountain; Button Gwinnett and the Theory of Relativity; Delphic Sibyl and John Cage's 4′33″.
The downside of all of these is, of course, like all bedroom tricks, that they quickly become old hat and so must be used sparingly. But for most of them, once will be enough: the mind of your man, it will be blown.