While there's plenty of eye rolling and passive-aggressive banter in The September Issue, critics say Anna Wintour doesn't live up to her bitchy reputation. Either she's actually just a decisive boss, or she knew not to berate underlings on camera.
The film, which opens today in New York and in other cities on September 11, follows Anna Wintour and the staff at Vogue during the eight months it took to construct the September 2007 issue, the largest magazine ever produced. It's believed that Wintour allowed director R.J. Cutler, who produced The War Room, such unprecedented access because she was trying to rehabilitate her image after The Devil Wears Prada or because her contract is up this year. Many reviews mention that Wintour comes off as cold and direct, but there aren't really any outrageous diva moments. However, creative director Grace Coddington emerges as the hero of the film.
Coddington is a red-haired former model from North Wales whose career was cut short by a car accident. She and Wintour started on the same day at Vogue, and she is now the only person who routinely stands up to her. Though some critics complained that the film's focus on their workplace conflicts isn't really all that dramatic since there was never a question as to whether or not the issue would be completed on time, most said it was entertaining. The film doesn't offer a scathing expose of Wintour, Vogue, or the fashion industry in general, but for those fascinated by how Wintour influences desigers' collections or why she decides to reconstruct Sienna Miller's cover shot in Photoshop, it's the most revealing portrait we're likely to see.
Below, check out what the critics are saying:
Some juicier behind-the-scenes drama and a more revealing examination of the creative process might have bulked up The September Issue,... But what remains is still a dishy and engrossing peek inside the fashion world's corridors of power — every bit as slickly packaged as the publication it seeks to uncover — that should rivet couture enthusiasts in endless trips down the cable runway... Like the hit movie version of The Devil Wears Prada, The September Issue often resorts to bubble-gum montages (edited by Azin Samari), hurling evening wear, headdresses and pop songs at the screen and inviting the viewer to get lost in the magnificent chicness of it all. The clothes are fab, to be sure. But a more rigorous, analytical approach would have offered more insight into Wintour's aesthetic criteria (about the only concrete thing we learn is that she likes fur and hates black) and reinforced her belief, shared early on, that fashion is more than just expensive fluff.
G/O Media may get a commission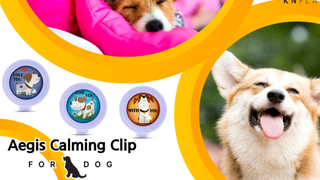 20% off
Aegis Calming Clip for Dogs
Cutler navigates Vogue's predominantly feminine realm with aplomb, concentrating as much on the magazine's publishing process as the fashion angle. His observational approach captures a wealth of revealing moments between magazine staffers, designers, photographers and stylists, sometimes to the participants' palpable chagrin... The digital production clearly benefits from the format's mobility, as cinematographer Bob Richman seeks out subjects' most telling glances and gestures, then opens the frame to absorb the glamour and excitement of haute couture fashion shows and photo shoots. Editor Azin Samari stylishly distills hundreds of hours of footage into a vibrantly energetic narrative.
The people on display here are neither lionized nor criticized. Cutler just lets them be, and so our interest lives or dies on how fascinating we find the world they belong to. Indeed, once you're hip to Wintour's approach (cruelly cold and distant in the office, benevolently cold and distant at home) she becomes a fairly monotonous presence. The doc's breakout star is Vogue creative director Grace Coddington, a former model whose plain appearance (the end result of a horrible car accident) and frumpy clothing belie her genius for fashion. She counters her boss every chance she can get and provides the film with a much-needed emotional center.
Despite the movie's use of bulletins, apparently to add a sense of urgency and suspense to the proceedings-three months until the close of the issue, six weeks, a month, a week, etc.-it's a completely false sense of urgency. None of the doings on-screen suggest a desperate race against the clock. A larger problem is that fashion is all about the moment-thismoment. The September Issue is old news, all the more so given the recent recession-driven transformation of the magazine landscape.
Because Ms. Wintour's lightest word is law-this keeps meetings brief and conversations briefer-and because the magazine's staff communicates in the shorthand of glances and gestures and seems experienced at heading trouble off at the pass, nothing much happens in The September Issue.
R.J. Cutler's documentary never does catch Wintour lashing an assistant with her belt or any of the other dirty doings you know she gets up to when there isn't a camera in her face. But if a syllable could kill (and it can, can't it?), the movie would be the Texas Chainsaw Massacre of the stiletto-heeled and dagger-toothed... Wintour evidently consented to the film as counterpropaganda to the movie The Devil Wears Prada, which came out the year before, but that strategy is like curing a whiskey spree with a beer. The September Issue is milder, but its cast of husky-voiced women and shrill men still generate plenty of chuckles.
Is it possible that Wintour isn't so much a sponge-squeezing killjoy as simply ... an editor? She names decisiveness as her greatest strength, and the movie shows her making good decisions, rapidly and repeatedly. The first picture Wintour vetoes from Coddington's treasured shoot is distractingly fussy and rococo. Grace mopes, but the magazine benefits. At the film's climax, Cutler plays up the drama of Coddington's refusal to allow an appealing but not-quite-model-standard image to be digitally nipped and tucked at Wintour's request. It's lively storytelling, except that Wintour's suggestion seems more like playful banter - an attempt to be charming for the documentary crew - than an edict.
Though most will visit R.J. Cutler's subtle, supple documentary hoping to peek beneath the formidable bangs of Vogueeditor Anna Wintour, they will be disappointed: This is a movie whose ambitions range wider than the contents of her guarded psyche... But a life dedicated to selling outrageously expensive clothing to averagely compensated women demands a personality programmed to repress, and the portrait that emerges is that of a brilliant and influential woman whose mind is as masked as her runway-show presence. We see no partner, no home life, no friends and no indication of her beliefs or worldview. Whenever a flicker of emotion disturbs her glacial surface, it's quickly contained: a flash of defensiveness when comparing her work to that of her siblings (a political editor at The Guardian, a low-income housing advocate, a labor organizer), and a fleeting sadness when her daughter, Bee, announces a preference for legal briefs over the designer variety. If Wintour's prodigious self-control were the primary emotion on view, The September Issuewould quickly alienate all but the most Ungaro-obsessed. But Cutler - and his movie - are clearly more drawn to the magazine's senior creative director, Grace Coddington, whose gorgeous layouts are continually getting bumped in favor of the celebrity du jour.
Is she a diva, a bitch? The devil in Prada? (If my eyes don't deceive me, she seems to prefer Lagerfeld.) Well, she's a devil only if you think there's something nasty about a woman who's paid a royal salary to elevate her every whim into a command. The September Issueis organized so that we observe the ruthlessness, the high perfectionistic logic, of each decision Wintour makes. There's not enough color in that collection! Why does this layout feature only one fur garment? - it looks out of place! "I don't see any real evening on that rack," she tells a quivering Yves Saint Laurent designer. No casual comment about after-dark wear was ever such a threat. Yet Wintour isn't mean; she simply means what she says.

If she were just pushing people around, we might look on with derision (or fear), but part of the movie's dishy fun is that there's room for more than one ego in the room. André Leon Talley, who is Wintour's consigliere and editor-at-large, isa bitch (I mean that as a compliment), a witty postmodern man so neurotic about swaddling his giant physique that he can't play tennis without draping a designer towel over his shoulders. And if Wintour is the film's subject, its true heroine is Grace Coddington, Vogue's passionate and addled creative director. A former model (like Wintour herself) who rose up in the 1960s glory days of swinging London, Coddington now looks like a Pre-Raphaelite ghost. It's she who orchestrates the magazine's photo shoots, which are like eroticized couture dioramas that fuse the past and the future... I came away from The September Issue liking Anna Wintour more than I thought I would, but mostly with an appreciation for her mission: not just to sell magazines, to market clothing and style, but to give femininity its sheen.
R.J. Cutler's vibrant and mischievous documentary The September Issue is only partly a movie about fashion. At its heart, it's really a movie about work, about the ways individuals compete with, grate against and inspire one another in the workplace. What really drives Cutler's picture is the dynamic between Wintour and her right-hand woman, creative director Grace Coddington, who has, for more than 20 years (she started at American Vogue at the same time Wintour did, in 1988), been the mastermind behind the magazine's most imaginative fashion spreads. Wintour may be the elusive minx who first captured Cutler's interest. But with Coddington as the other half of this highly mismatched tag team, Cutler has struck documentary gold. Coddington — a former model and flame-haired Welsh giantess who pads around the Vogue office in billowy black trousers and sturdy flat sandals, a chic but earthbound contrast to Wintour in her tiny, fur-trimmed jackets and spiky heels — is the not-so-secret star of The September Issue. Radiating equal parts flamboyance and good common sense, Coddington needles Wintour in a way no one else on staff dares. Their working relationship is an uneasy chemistry of mutual regard and know-it-all stubbornness, a fascinating model — not easily described, nor, alas, readily reproducible — of the way creativity and friction can coexist in the workplace.
The quick peeks into Her Highness's inner life break up Cutler's too-often-rushed, montage-heavy countdown of the frenzied months leading up to that behemoth issue's close, capturing the desperate attempts of Voguestaffers to please their boss and their singular, gnomic pronouncements at meetings: "The jacket is the new coat." Even Vogue's queenly editor-at-large, André Leon Talley must bend to Madame's will, explaining his presence on a tennis court: "Miss Wintour said I had to lose weight. What Miss Wintour says, goes." But not always. Grace Coddington, Vogue's creative director and the only one who dares to say no-if not always directly-to Wintour, emerges as The September Issue's true star, or at least the player with the greatest resolve, a devoted romantic who still has the sanest perspective on the industry... Coddington is especially gifted at manipulating the presence of Cutler's crew to get what she wants from her boss.
[The Devil Wears Prada] readers might wonder why a figure as legendarily image-conscious and remote as Wintour might open herself up to the scrutiny of a documentary, but the fashion/publishing icon makes it through September with her privacy and secrets intact. Director R.J. Cutler maintains a respectful distance from Wintour and similarly compelling subjects, like model turned Voguecreative director Grace Coddington and towering, iconic editor-at-large André Leon Talley. Cutler is in the enviable position of having arguably too many fascinating documentary subjects, but while Septemberis never boring, it's also superficial. The internal machinations of Voguemight be too much for a single documentary to handle; a multi-part TV documentary series might have given the folks behind the camera more time and space to flesh out these colorful characters and let audiences decide for themselves whether they love or hate Wintour, or fall somewhere in between.
Most of the truly ugly stuff in fashion - the models starving themselves, the exploited Chinese workers cranking out couture fakes and the animals inhumanely slaughtered for their fur - remains unnoted in The September Issue, much as it often does in Vogue. And while the movie shuns any overt discussion of money, it includes an instructive scene of Ms. Wintour playing the coquette with one of the magazine's important advertisers. Of course it really is all about money. Despite being crammed with glossy images of beautiful, weird, unattractive, ridiculous and prohibitively expensive clothes and accessories, Vogue isn't about fashion: it's about stoking the desire for those clothes and accessories. It's about the creation of lust and the transformation of wants into needs. Almost everything in this temple of consumption, including its lavish layouts and the celebrities who now most often adorn its covers, hinges on stuff for sale. Some of that stuff comes with a price tag, but some of it is more ephemeral because Vogue is also in the aspiration business. Mr. Cutler doesn't notice or doesn't care about any of that, which makes his movie as facile as it is fun.