Holy mother of God, it's here. The September Issue, the long-awaited uncensored look inside Vogue, premiered last night at the Museum of Modern Art. And yes, everyone was there. And yes, there was a delicious mix of glam and bizarro.
I must say, I'm wondering at the significance of Anna Wintour's vaguely ethnic prints - although my instinct is to go with "none."



Sienna Miller and Anna Wintour are clinging together in half these shots - as two women victimized irrationally by the dislike of other women? Perhaps. The truth is, Sienna may be a victim of hype, but man, can the dame work an outfit. And I like to imagine this frock's a tribute to the best of John Hughes.



G/O Media may get a commission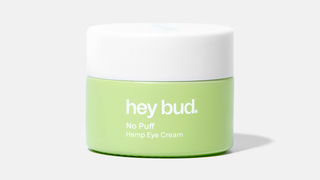 15% off
Hey Bud - No Puff Hemp Eye Cream
Look, we all get that Thom Browne's doing carefree subversive preppy here, but that doesn't mean it can't also look awful, absurd, vaguely disturbing.



Do you know what I love best about Georgina Chapman's dress? It's like "Franciscan Monk goes to Studio 54," and even one of these elements would have been a recipe for awesome.



It's so unfair. If most of us wore this, we'd be dismissed as "nerd whose Little House stage has lasted a weirdly long time." Whereas, Alexa Chung is protected by the auspices of high fashion!



I'm very eager to hear people's take on Renee Zellweger's choice, since she, flaming June orange and draped open panelling are all polarizing things. Note, please, that Renee has bravely bucked the gratuitously aggressive shoe trend, two days in a row, by sporting near-nudes.



I love how Cassie has become this Prince-inflected fashion star. Does this send me? No. Would I have done something a little more interesting than the usual jumpsuit-and-drag-heels? Probably. But she still manages to be essentially fab at all times.



Carolina Herrera is an ongoing argument for the efficacy of the uniform. I remember an essay she did in Vogue a few years ago extolling the virtues of the white blouse, which she claimed had "literally saved (her) life." The life-saving in question involved losing her luggage before a Chicago gala and finding a nice blouse at Banana Republic.



Anne V's shirt reads "Fashion's Night Out, September 10, 2009." So, you know, brace yourselves for that.



This Tyrolean smoking jacket situation was probably the inevitable evolution of Zac Posen's recent devotion to "shrunken dandy." He's trying to do for shrugging what Beau Brummel did for "moving your neck."



Okay, this is a lot going on. If idle hands are indeed the devil's playground, then Hilary Rhoda's incredibly busy outfit is in absolutely no danger of falling prey to the temptations of Old Nick.



See, the difference between Jessica White and the rest of the world is that when she chooses to break up her length with a lot of unflattering, harsh lines, she's still tall and willowy. The rest of us would be cut down to approximately microscopic size.



See, when, like Cynthia Rowley, her whole thing has always kinda been "girly downtown lunatic," one can only revel in her consistency.



Man, the amount of jewel-toned satin here is starting to give me that claustrophobic David's Bridal feeling - I'll save you the bad modern fiction image of the lines of dead gowns in their shrouds or whatever. And if you think I'm avoiding discussing Tory Burch's dress because I'm having a really hard time overcoming my instinctive, infantile aversion to its color (and the fact that she appears to have scalped Beaker to make her bag) well, you're right.



Vera Wang has officially discovered the most uncomfortable red-carpet pose in the world's history. It's called "Cat-on-a-Hot-Tin-Headlight."



Wow, the fun never stops at the Trump house!



Here's one thing I've wondered: has kilt-wearing taken off since Marc Jacobs started doing it exclusively? And I don't mean his entourage who obviously probably feel pressured to toss all their pants.


Getty" />