R.J. Cutler's documentary about Anna And The Giant Magazine, The September Issue, may not really have a climax, but it has a number of great scenes. Like when designer Thakoon Panichgul (left/above) compares the Vogue editor to Madonna.

What becomes clear in the film is just how far Wintour's influence ranges within the domain of fashion. In addition to interceding with designers in order to appease retailers concerned with their collections' saleability, Wintour acts as a kind of kingmaker in other ways that far exceed the presumed ambit of her magazine. Thakoon, a young designer, was a runner-up in the Council of Fashion Designers of America/Vogue Fashion Fund Award, and in this clip, he's getting part of his prize: the chance to design a line of three white shirts for the Gap.
But it isn't the Gap creative director who's okaying Thakoon's designs. It's Anna Wintour. When, later in the movie, a journalist for the National Post asks him how it was to get that call from the Gap, Thakoon corrects her: He didn't get any call from the Gap. He got a call from Anna Wintour at Vogue. When the Spanish fast-fashion retailer Mango approaches Wintour about hiring a New York designer as a consultant, Wintour also pushes Thakoon. "Thakoon?" says a clearly jealous Oscar de la Renta, who notes that the Mango position pays extremely well. Wintour replies, "Thakoon."
André Leon Talley, is a man who must live by his own "aesthetics of style." In this scene, he's decked out in designer goods, emerging from his chauffeured car holding a Louis Vuitton racket case, a small Louis Vuitton trunk, wearing Damon Dash trousers, and a vintage 1960s Piaget diamond-encrusted tennis watch. A Louis Vuitton towel is draped over his Ralph Lauren polo shirt. "Miss Wintour inaugurated me into health," he explains, "She saved my life. I guess." Then he plays what could almost be mistaken for tennis.
G/O Media may get a commission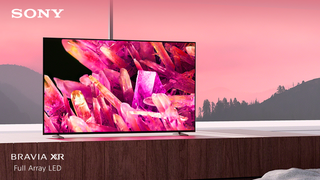 $400 off
Sony 55 Inch 4K Ultra HD TV X90K Series
But the woman who steals this quiet, ploddingly paced movie is stylist Grace Coddington. Although it's a little hard to pick a winner among the Wintour and Coddington duo — in truth neither has the kind of aesthetic sense that commands much awe, as any Vogue reader has seen from Coddington's borderline cheesy styling and conceptualization (especially in her frequent "fairytale" shoots), and from Wintour's predilection for running stonkingly unimaginative spreads with models jumping in head-to-toe runway looks in front of gray backdrops. But Coddington doesn't have to be remade as, as one source calls her in a nice bit of hyperbole, "the greatest living stylist" in order for the movie to work.
To be Wintour's foil, she just has to be her reflective, sensitive, eyes-open self. Standing there on the steps of Versailles, with the wind in her hair and her boss far away, Coddington is likable and one feels that she has earned the viewer's respect.
Earlier: The September Issue: A Portrait Of The Quaint Old Consumer Economy