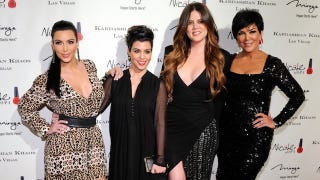 Horrifyingly, the Kardashians no longer need to reproduce in order to populate the country with their unique brand of krazy nomenklature. This year's first babies sport a klutch of kreative K names, perhaps inspired by the fame-hungry family.
According to NameCandy.com's list (via Time) of the names of babies born on Jan. 1, 2012, K names are totally a trend. Six cropped up on the first of the year alone: Karis, Kay'lyn, Kristina, Kyren, Kalylah, and of kourse, Khloe. Time proclaims this a sign of the Kardashians' influence, and we tend to agree — no doubt when little Kay'lyn and Kalylah grow up, they too will seek brief yet highly televised marriages to NBA players.
Luckily, K names are not the only trend. A names are also popular, which I heartily support. And the best name from the list is clearly Envy Essence-Faye, born at the stroke of midnight in Nevada. Little Envy promises to be a bitch to reckon with when she comes of age — look out, world.
Kyren, Anya, Envy and More: America's First Baby Names of 2012 [Time]
First Baby Names of 2012: Name Candy's State-by-State List [NameCandy]