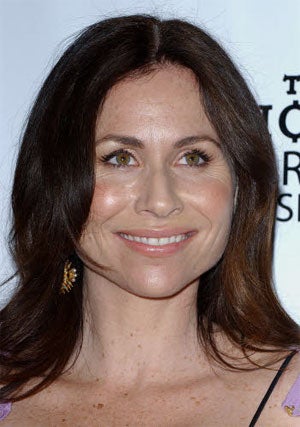 Raise your hand if you've been waiting with baited breath to be reunited with the Malloy family once again. I, for one, can't get enough of The Riches, the FX drama starring Eddie Izzard and Minnie Driver as part of a clan who assume the identity of a wealthy family they accidentally kill in a car accident. At last night's premiere party for the show, everyone's favorite con artists hit the red carpet with nary a crime (of fashion) to be seen: there was the officially-pregnant Minnie Driver, plus the actors who play her kids, Shannon Woodward and Aidan Mitchell, looking absolutely adorable. The Good, Bad and Ugly of the red carpet premiere of season two of The Riches, after the jump.




The Good:

Mazel tov to Minnie Driver on looking pretty and classy while with child. Also, her cardigan is so the same color as her dress from the Good Will Hunting premiere... not that I remember that.

Can we please discuss how adorable little Aidan Mitchell looks in his red tie and Christian Siriano-esque vest?

Shannon Woodward: Classic beauty.


The Bad:

At this point, ombre just can't be worn without channeling Forever21, Teresa Huang.

I prefer Eddie Izzard in heels, a skirt, and tons of eye make-up.

Alexandra Breckenridge came dressed as Maggie Gyllenhaal's understudy in Secretary.


The Ugly:

While everyone else dressed for a premiere; Bonnie Root dressed for going to the grocery store.
[West Hollywood, CA; March 16. Image via Bauer-Griffin.]