It used to be only a handful of small private liberal arts colleges that offered gender-neutral housing options to students. Now, thanks in part to Tyler Clementi's tragic suicide, nearly 100 schools allow undergraduates to room with members of the opposite sex. Students at larger institutions in red states say they deserve the same options, but their universities are too afraid of angering right-wing donors and state legislatures to prioritize LGBT student safety. Not one single public university in the South will officially agree to let students of different genders room together. The University of Oklahoma may be the first to change the status quo — that is, if the state's ultra-conservative politics don't get in the way.
OU undergraduates are currently required to live in same sex, on-campus housing during their freshman year. Dorms with co-ed halls are available for upperclassmen, but all students are prohibited from actually rooming with members of the opposite sex, regardless of sexual preference. Those who feel unsafe or uncomfortable are encouraged to confide in a resident adviser (RA), but gender-neutral housing advocates say this tactic forces kids to "out" themselves in order to be heard, oftentimes to no effect.
"My RA meant well, but he didn't understand what I was going through, and his attempts to talk to my bullies made things even worse" said Robert Wild, a 21-year-old gay senior who was routinely harassed in the dorms as a freshman. "I'm from a rural community, so I'm used to this stuff, but it would have been so much easier if I could have lived in a gender neutral environment." J.D. White, now 21, saved himself from an ugly scenario when he received his roommate's contact information before moving into the dorms. Naturally White found the roommate's MySpace page, which proclaimed, "Faggots, homos, queers, and lesbians: keep off my page, you're not welcome here!" When White, who is gay, explained the situation to Housing Services, he was told that his complaint was a "personal issue" and that it was too early to switch roommates. So White opted for a single room — which were technically handicapped rooms — costing over $1,000 extra per semester. "Basically, I put myself in debt because of a homophobic guy I didn't care to meet," White said. "I've always gotten along better with girls. Why couldn't they just let me live with a girl?"
Because of money and politics, of course.
OU officials have told students in the university's Gender Neutral Housing Coalition, which has been campaigning for a gender-neutral housing option since the fall of 2009, that the real issue isn't that the administration disapproves of the initiative. University President David L. Boren, a Democrat who has served Oklahoma both as governor and U.S. Senator and received flak for endorsing Obama in 2008, has agreed to meet with the Coalition on two separate occasions — once last month, after a highly-publicized rally, and another meeting is scheduled for May 2nd — but things aren't looking good, likely because Boren's worried that the move would discourage conservative donors and anger state politicians.
G/O Media may get a commission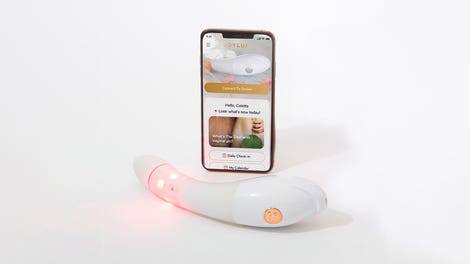 $50 Off
Joylux vFit Gold Device
"The goal of President Boren and the administration is to find the best solution for all parties invested in the University, including all students, parents, alumni and the state legislature who makes decision to allocate funding to the University," his press secretary wrote to us in an email. He declined to specify which donors would object to the plan, but we have some ideas.
In 2008, Aubrey McClendon, the billionaire owner of Chesapeake Energy, gave $12.5 million to OU, one of the largest gifts in the University's history. McClendon also donated more than a million dollars to Americans United to Preserve Marriage in 2004 and 2005. Billionaire Harold Hamm, who attends the Koch brothers' annual right-wing retreats and was recently appointed Mitt Romney's energy policy advisor, has donated more than $30 million to the university's Health Science Center. Oil CEOs and big-time Republican donors James Mulva and Clarence Cazalot Jr. have also given money to OU.
With that kind of backing, it's no wonder Boren doesn't want to be a trailblazing pioneer for LGBT rights. When students attacked him at a rally for stalling, Boren said, "You don't jump out and be the first just for the sake of being first. There may be very good reasons why other institutions have decided to not be first...Do you want to be first at putting the university financially at risk?"
The Oklahoma State Board of Regents, which coordinates the university's appropriations, did not respond to requests for comment. The only donor who responded to us was McClendon, who said via a spokesperson that "he has great confidence in the leadership at OU to do what's best for the students, faculty and staff."
When the Coalition first presented Boren with a proposal for gender-neutral housing last fall, the president said he wouldn't look at it until they researched details of gender-neutral housing policies of other Big 12 and Oklahoma institutions beforehand. The request that students come up with a compare-and-contrast list seems odd, not least because Oklahoma is by far the most progressive university within the group. "Baylor and Texas Christian [two schools in the Big 12] are private Christian colleges; we've heard they're not even allowed to publicly discuss gender neutral housing," said 21-year-old Elizabeth Rucker, one of the Coalition's most active members. "So we felt that was a diversionary tactic."
But it's not just a diversion — it's a catch-22, because no other university in the region wants to be the first, either. The Director of Residence Life at the University of Texas, which is currently considering gender-neutral housing, said they plan to "look at gender neutral housing trends and models within the Big 12, in Texas and at schools across the country similar to UT to see what would be best for the University." You can almost hear the scuffling: "You go first. No, YOU go first."
This isn't just an issue in the Big 12. When UNC Chapel Hill's chancellor rejected a gender-neutral housing proposal last February, he wrote, "My concern is that we haven't adequately explained it to our many stakeholders off campus." The University of South Florida's tentative gender-neutral pilot program was recently halted by a state clause that defines cohabitation among members of the opposite sex as "lewd and lascivious behavior."
This may come down to public verses private institutions. Duke just announced its commitment to gender-neutral housing this month. But the dean of undergraduate education said the private university was simply following in the footsteps of fellow private schools like UPenn, Dartmouth, Brown, and Columbia — all Ivy League schools that don't have to answer to conservative legislatures.
Back at OU, Boren will make his decision by this summer — meaning that any policy changes would be implemented prior to the start of the Fall 2012 semester. Conveniently - perhaps too conveniently, one might surmise - many of the most active gender-neutral student advocates will graduate before that happens.
Regardless of the outcome, some LGBT advocates say it's revolutionary enough that the buzz is spreading beyond small, liberal schools to states like Oklahoma. When Oklahoma was one of 11 states that passed a state ban on same-sex marriage in 2004, seventy-six percent voters favored the ban. Norman, the city where OU is located, received national media attention in 2010 when 19-year-old Zachary Harrington killed himself after a town meeting debate regarding "LGBT history month" that brought out the worst in residents, including one man who said he moved there because "he thought it was the kind of place that would never accept the [LGBT] community with open arms."
But the responsibility of student safety shouldn't lie on the backs of LGBT students or be subjected to political pandering. "How many kids have to die?" asked Rucker. "Do we have to wait for another Tyler Clementi?"