Obviously, we ordered this newly-reissued book immediately, eager for advice. Yes, Edward Gorey, the master of pen-and-ink, tackles what to say after Deflowerment-by-Marimba-Player, Deflowerment-on-Cross-Country-Bus, and, obviously, Deflowerment-at-Seance. But the modern age has wraught a whole new batch of dubious occasions:
We read this book with interest. Especially instructive were what to say when deflowered by famous crooner.
Famous crooner visits town on one night stand, and through a series of lucky breaks, you get autograph. After deflowerment, he leaves town and when you tell story to girl friends, they do not believe you. You refuse to be laughing stock. On crooner's return engagement at local theatre, you storm his dressing room with mob of skeptical girl friends. You show autograph to crooner to refresh his memory. He says, "That's not my handwriting." You say: "Then may I come back for your real autograph later?"
(Miss Hyacinthe Phypps, the book's author, editorializes: "Obviously, someone in this situation is completely confused.")

G/O Media may get a commission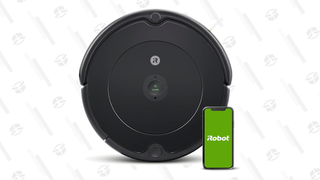 35% Off Black Friday Deal
iRobot Roomba 694 Robot Vacuum
Illustrations are also suitably intriguing. Particularly well-rendered were "the fraternity boy" and the "blind date" (dressed, as they always are, in double-breasted plaid mac and leghorn hat.)

If we had one quibble with the estimable book, it is that we wish the author had been able to address conundra of the modern age. To wit:"Deflowerment by Webcam," "Deflowerment by Sparkly Vampire," "Deflowerment by Gay Friend While Both Drunk," "Deflowerment at Locavore Restaurant When You Don't Know Partner's Provenance" and "Deflowerment by Giggling Animated Belgian Penis."

In sum, however, this is a useful and instructive manual, a necessity to any well-stocked library, and possibly the most inappropriate graduation gift since the Sex and the City box set.
The Recently Deflowered Girl: The Right Thing to Say on Every Dubious Occasion