The Real World has a long tradition of roommates being kicked off the show for fighting or abusive behavior. Well, times have changed. After another ugly altercation in a recent episode of Real World: Skeletons, no one was booted from the house and the show's official stance on violence seems murkier than ever.
Mashable addresses the issue in a piece today, "The Real World's Big Bullying Problem." The "rules" about fighting on The Real World have always been less than explicit. In the past, it's been left up to the roommates to decide what happens next. More often than not, they've chosen to evict the shit-starter from the house. (Notoriously, the David, and Tammy incident.), but that's no longer the case.
The most recent blow-up, on this season of Real World: Skeletons, started with an argument between roommates Violetta and Madison. Watch the video above. Samantha Murphy Kelly writes for Mashable:
During a drunken night — as many of the evenings tend to be — Violetta shoved her hand in Madison's face, kicking off a violent attack that Sylvia, who didn't even know why the fight broke out, would eventually join. Somehow, Madison ended up in a choke hold.

It was violent. It was messy. It was uncomfortable to watch.
The Skeletons concept—surprising the roommates with enemies, exes and frenemies from their past—is a set up to begin with, designed to provoke unexpected reactions. It's a format that encourages emotional outbursts, and it's made this season seem more like episodes of Bad Girls Club or Jerry Springer.
Instead of the usual roommate discussion (which I thought was mandatory in past seasons, and it's something I miss), MTV gathered the roomies and made them watch footage of the incident—which was a first. Their reaction to watching themselves is part of the episode. Apologies were made. But... that was it. From the outside, it seems like The Real World's producers have stepped back.
G/O Media may get a commission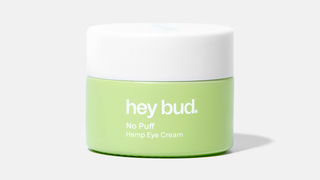 15% off
Hey Bud - No Puff Hemp Eye Cream
Was showing the footage their way of making the roommates talk about what happened? It wasn't enough. There's no zero-tolerance policy. When asked for an official statement about the rules on fighting, a rep for the show's production company Bunim-Murray responded:
"We address any physical altercations on the show on a case-by-case basis, as we need to assess every aspect of the situation before we make a decision on how to respond. There are times when the situation can be resolved by the roommates themselves and other times when we as producers have to step in. But, as a general rule, the roommates are told that any physical aggression can result in their removal from the house."
Rules don't exist if they're not explicit, so this is a recipe for disaster. Mashable writes:
At a time where networks are trying to crack down on violence — from the NFL to MTV, which is running a series of ads that promote acceptance and even has a website called A Thin Line to battle cyberbullying — the lack of repercussions from what went down that night was alarming. If a physical altercation got someone kicked off in 1993, how can bullying and violence be tolerated 22 years later in 2015.
Another fight happened on Real World: Portland, between roommates Nia, Averey and Johnny. Bunim-Murray responded similarly to Variety, which wrote:
As it turns out, there is no contractual policy against fighting on "Real World," contrary to what many viewers and cast members may have thought. Bunim-Murray, the shingle behind MTV's flagship reality show, told Variety it handles each situation on a case-by-case basis, at times ejecting a cast member, at times holding a house vote to see if a cast member should remain.

"As a general rule," the production company said, "the roommates are told that any physical aggression can result in their removal from the house."

But, as seasons progressed on the series and its spinoffs, producers have stepped further and further away from their involvement in physical altercations, leaving cast members with fewer concrete consequences for their actions while cameras roll.
Either way, what's aired on The Real World now isn't the same as what used to air when it comes to showing violent behavior, and the policy right now is no policy.