If you were an alien from another planet trying to get a sense of how humans are, and the only information you had were news reports about David Petraeus's affair with Paula Broadwell, you'd rightfully conclude, based on available data, that female humans are batshit insane. And now that actually relevant information about the affair is no longer spewing forth, the media's biding its time by breathlessly reporting every possible "women are NUTS" angle they can get their hands on. Of course, this isn't fair. But it's fascinating.
Did you hear the one about how Paula Broadwell is an unhinged Type A superachiever who makes Tracy Flick look like The Dude? Did you hear the one about how her sculpted, muscular arms, which she showed off in a shirt that "revealed so much arm and shoulder musculature that it made Michelle Obama's sleeveless dresses look like Church Lady attire?" Did you read the whole Boston Globe story about how they asked a "local trainer" about whether Broadwell's arms mean she's crazy, or what, and the trainer was all, Yes. Bunny boilingly? Did you know that a woman showing her arms is an aggressive gesture designed to ward off rivals, much like a cobra spreading its neck skin before striking? Wait till you hear this bit about how the married mother of two boys who was so obsessed with General David Petraeus that she tried to do this whole big project about him at Harvard but was kicked out for not advancing her degree enough and now might face an ethics panel at Kings College in London. And yesterday, as she was trying to get into her car outside of her home in Charlotte, North Carolina, AKA "Mistressville, USA" (which is actually because fellow crazy political mistress Rielle Hunter, who had Jon Edwards' baby and then posed pantsless next to a stuffed Kermit the frog in one of the grossest magazine articles of all time, also lives there) and hit an AP photographer in the face. How about the fact that Paula Broadwell thought she was going to be a Senator? And that book title that could be a double entendre about David Petraeus' penis — ALL IN? And did you know that, according to fellow crazy broad Jill Kelley's probably crazy broad friend, the threatening emails that Broadwell sent to Kelley were "clearly unhinged" and said something about how Broadwell could easily — easily make Kelley "go away." Probably with those unsheathed guns of hers that she was waving around all Yosemite Sam-like.
Plus, crazy eyes.
We already knew Jill Kelley, a volunteer social liaison in Tampa who requested diplomatic immunity (?) when she called the police about the media descending on her home (No shit quote: "I am an honorary consul general, so I have inviolability. They should not be able to cross my property. I don't know if you want to get diplomatic protection involved as well?") was not exactly a paragon of balance (or completely in touch with reality). Did you hear about how socialite Kelley and her doctor husband ran a cancer charity that only lasted a few years and didn't spend any money on cancer research, unless that cancer research was being conducted at the fancy parties they kept throwing? And did you know that Kelley's identical twin sister Natalie was the only non-Kelley on the charity's payroll, but then she declared bankruptcy saying she owed like $3.6 million and tried to adopt a kid but a judge said she had severe issues of honesty and integrity and stability so General Petraeus and General John Allen took time off from their busy America-defending/mistress sexting schedules to write letters about how Jill Kelley's weird sister would make a great mother? And how about how John Allen and Jill Kelley may or may not have been sending sexy emails back and forth? And also how Jill Kelley and her husband owe a metric shitton of money to like three banks, which are suing them?
At this point, it's probably worth mentioning that Natalie Khawam, Jill Kelley's identical twin sister, has hired professional famehungry defender of hot messes Gloria Allred and that, in mere hours, there will be a press conference "to explain the truth about who Natalie Khawam really is, correct misconceptions about her, explain her course of action and comment on Natalie's relationship with General Petraeus and his wife Holly." Okay. That vitally important press conference happening today, people. Chop chop.
How do these things have anything to do with, uh, anything important again?
The Petraeus affair went from a case of a potential breach of national security to just a really weird story about insane people within a matter of days. But let's not conclude from the Kelley/Broadwell/Kelley's grifting identical twin storyline that all women are crazy. While Broadwell, Kelley, and Khawam all exhibit their own special brand of astronaut-in-diapers nuttery, we can't use this story to draw conclusions about all women. All women aren't crazy. People are crazy. Namely, people who hang around David Petreaus are crazy.
G/O Media may get a commission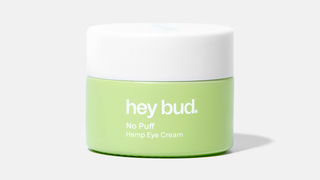 15% off
Hey Bud - No Puff Hemp Eye Cream
Somewhere, Tiger Woods is gratefully banging a former adult film star named after a spice.