CosMarieGlamVogBazElle sure can be a tedious read; from month to month, our favorite ladymags seem to delight in the twin pleasures of reprinting editorials wholesale and publishing story after story with a distinct Groundhog Monthly ring. Ever wondered why?
One reason is simple: The editors of these publications hammer out every detail of the stories they're going to print before they've even assigned writers to the pitches. A tipster passed on this e-mail, which she received from a Glamour freelancer foraging for quotes:
Hey Ladies,

For the October issue of Glamour magazine, my editors are working on a story called "Guilty Man Pleasures." The editors are looking for quotes about things good women do with men that are so bad.

Two examples are:

"I am currently seeing a guy who is way, way too young for me, but after ending a serious three-year relationship, he is just what the doctor ordered. The sex is so good I keep thinking he must be a professional and that my invoice is going to arrive any day now." -Elizabeth Hogan, 31, Winter Park, FL

"My most recent naughtiness: 'accidentally' finding my boyfriend's checkbook and looking through it to see if he'd purchased an engagement ring. He had!"-Jaime H., 27, Boston

Other examples are the woman who has webcam sex with her long-distance boyfriend, the girl who lets the guy she's dating read text messages from other guys just to make sure he knows there are others interested, the woman who's trying to save money but still gets her monthly Brazilian bikini wax just because she and her man love the feeling...
You've read this story before. It was called "The Best Sex Secret I've Never Told Anyone" in Glamour's June issue. In Cosmo, the story's called "Confessions," and they run it every month. These aren't real journalistic sources speaking — these are archetypes. This writer isn't looking for news — she just needs photogenic ladies to slot into a pre-written narrative. Glamour already knows exactly who it's looking for: "The girl who lets the guy she's dating read text messages from other guys just to make sure he knows there are others interested, the woman who's trying to save money but still gets her monthly Brazilian bikini wax just because she and her man love the feeling." No wonder we never read anything interesting in the pages of these magazines.
Anna, who used to work at Glamour, says then-editor Bonnie Fuller was notorious for dispatching writers to find sources who exemplified predetermined characteristics and narratives. "It was like the Bush Administration in the run-up to the Iraq war: first they decided what the 'story' was, then we found ways to make the 'facts' suit that agenda," she says. But it's not a problem unique to any one ladymag: Alison Stein Wellner, a women's magazine freelance writer who'd apparently reached the end of her tether, wrote in January of her exasperation at having to do story after story where the reporting was shoehorned around an inelastic narrative sent down from on high. Of one magazine, which she does not name, Wellner writes:
They wanted a story about how women with certain Bad Disease found their lives changed by the illness. Sounds reasonable enough. The process is this: I am to go out and find a number of women with this Bad Disease and talk to them about how their lives have changed. I am given various storylines by the editors: my distant marriage has been made closer. Bad Disease made her fearless in the face of a relationship that used to terrify her. She embraced alternative treatments, but not too much, so she doesn't seem like a wacko. Etc.

These are storylines dreamed up in an editorial meeting. They are invented. They are fiction.

My job is to then talk to as many women — real breathing women — as possible to find someone that conforms to these storylines. I am asked to provide photos. If the woman has an undesirable quality — like, say, she's a lesbian — she's disqualified.
G/O Media may get a commission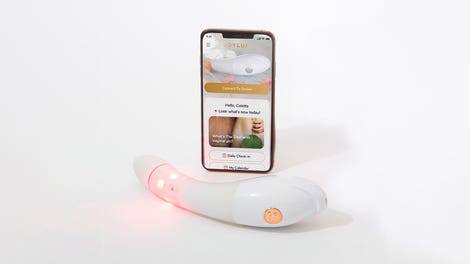 $50 Off
Joylux vFit Gold Device
Just a few weeks ago I happened to get into conversation with a junior editor at Vogue — which, for all its faults, is still one of the only American women's magazines to actually include any long-form feature writing that goes much beyond Area Woman Brought Closer To Husband By Bad Disease. This editor told me that she was itching to cover the financial crisis. (Vogue has apparently noticed that there has been a financial crisis.) The only problem, said this editor, was that her magazine's coverage would have to take the form of a profile, and because of Vogue's female audience, the profile would have to be of a woman. What's more, any appropriate profile candidate would need to be attractive. "I pitched Sheila Bair to the photo department," said this editor, "and they said, 'Are you kidding? We can't shoot her.'"
That next week, the New Yorker published an excellent profile of Bair, the chairman of the FDIC, a profile that explored her Republican background and how her pro-choice leanings probably scuttled her own political ambitions within her party, and explained how Bair had tried to address the subprime mortgage crisis before it actually came to threaten the rest of the economy. Vogue's latest issue, in case you're curious, has a story about Vanessa Traina (rich, likes clothes) and devotes two pages to a mother-daughter duo from Austin who sometimes like to share dresses and shoes. I did not notice any stories about the financial crisis.
But at least you'll be able to read all about Guilty Man Pleasures come October in the pages of Glamour.
The Best Sex Secret I've Never Told Anyone [Glamour]
Confessions [Cosmopolitan]
Why Magazines Suck [TDB]
The Contrarian: Sheila Bair And The White House Financial Debate [New Yorker]