Last night's premiere featured Rachel and crew preparing clients for the 2009 Golden Globes. Her assistant, Taylor, seemed even grumpier this season, in part because Rachel made "jokes" about how Taylor doesn't fit into the sample dresses in the studio.
Rachel wasn't telling Taylor that she was "fat", but that she had big boobs. However, I imagine that working in that industry, in that city, could make one sensitive to any mention of physique —especially when said by someone so very, very thin. Still I can't help but find Rachel Zoe really likable and funny. And though Taylor seemed like she was on the verge of quitting, she apparently did gather with Rachel, Brad, and the like to view the first episode of this season.
This episode also illuminated how the economy is affecting stylists. Rachel was stressed because, typically, she would have multiple "bananas" dress options for her five big-name clients (Demi Moore, Cameron Diaz, Debra Messing, Anne Hathaway, Eva Mendes). The situation was different this time around, and she had to struggle to find even one dress per client. Rachel explained it thusly: "Everything from spring's been worn, everything from last couture's been sold. The big fashion houses are saying. 'We're not spending a lot of money sending couture around the world only to find that it's not gonna be worn.'"
The recession might be affecting Zoe's personal finances as well. The first season of TRZP was filmed in her home, with one large room converted into her styling studio. This season however, Rachel and her husband Rodger are living in a much smaller apartment, while she has a much larger commercial loft space for her studio.
Old house:




New apartment:

G/O Media may get a commission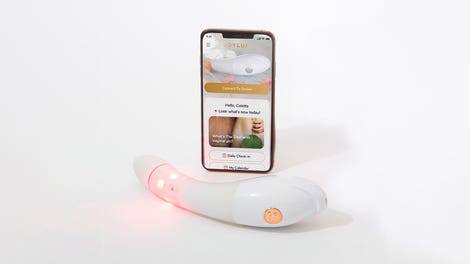 $50 Off
Joylux vFit Gold Device
It turns out that her home had been on the market since at least fall 2007. Maybe they were liquidating assets to further her business? You can read more about it here.
As for the Golden Globes, Rachel ended up convincing Karl Lagerfeld to alter a couture Chanel dress for Cameron Diaz to make it much more accessible for the American public.



In the end, it all worked out fine. Here are the results of Rachel and co.'s frenzy: