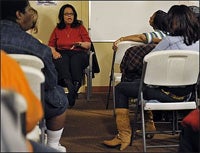 Last week, Jackie McReynolds and her program to help street prostitutes renounce the lifestyle were profiled in the Washington Post. Today, she appeared on NPR with a client, Nakita Harrison, to talk about their experiences.
McReynolds, as she told the Washington Post, says that she was first offered money for sex at the age of 13. What wasn't in the Post story was that she was given the money by a family friend, who invited her over when his wife wasn't home. She says she never really considered herself a prostitute, telling NPR's listeners, "I just thought I was having sex for money." But sex for money led to drug abuse, which led to more sex for money: what went from servicing men in her social group quickly became street prostitution when she needed an easy way to support a burgeoning heroin habit.
Harrison's path to prostitution came around somewhat differently: she began having sex at 12 with members of a (somewhat) older peer group she met while partying, going to clubs, drinking and doing drugs. She began having sex for money — she, too, never thought of herself as a prostitute — within her social circle to get things (money, drugs, etc.). But as her substance abuse spiraled out of control, she turned to prostitution to support her habits, her basic needs and the lifestyle she wished to keep living.
Both women said that, in their heads, they expected that, eventually, they would end up leading some sort of glamorous life — and Harrison specifically references the idea that she expected that the end of Pretty Woman was always just around the next corner. Instead, she and McReynolds ended up in the court system, as addicts and, in McReynold's case, infected with HIV.
The saddest uplifting part, of many sad parts, of the interview is when Harrison talks about how, in participating in McReynolds' program, she learned that she didn't have to rely on men for self-esteem or to live her life.

"I must say, in the beginning, my self esteem was very low. And for me to start working on the outside part of me was a big plus for me. For the ladies, when I would arrive at the group, the ladies would give me compliments. It wasn't from men. It was from the ladies. 'You look nice," or this and that, this and that. It boosted my self esteem up, it was not from a man, and I considered what the the ladies were saying was genuine. They didn't want nothing in return. I didn't have to do anything. And that's what I received from the program. As I was receiving the information, I kind of allowed myself to open up. It helped me with learning how to... you know, no situation's gonna occur on the street that I don't have to listen to a man, or I don't need a man to tell me that you look good. I don't need someone to pick up and ask me if I need a ride. I can get to where I'm going without that now. You know, always finding a shortcut, it always leads to, at least for me, always going back to the same old life — partying, drinking, having sex.
Both of the women talked about how prostitution, and the seemingly easy money they earned from it, made it hard to let go of the lifestyle, despite the damage it did to them in other ways — in the Post article, McReynolds says intimacy issues stemming from her years of prostitution helped end her marriage. For both women, the key to leaving the lifestyle was realizing that they had value to themselves — and to other people — outside of their ability to be sexual.
So, now go tell another woman she looks nice today. And be sincere.
Prostitution A Difficult Job To Escape [NPR]
Earlier: Helping Women Help Themselves