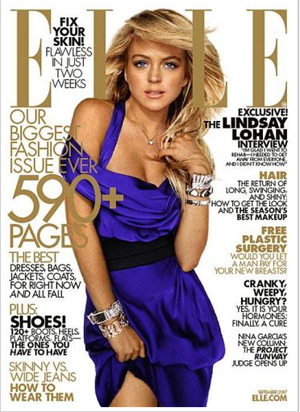 Even pre-redesign (more on that Monday!), Elle magazine sure must be doing something right: Elle fared best amongst the magazines in its field for newsstand sales for the first part of 2007. Elle's figures went up by 9.1%, while Vogue saw only a 4.6% increase, Harper's Bazaar only increased its sales by 2.0%, and W suffered a 23.1% loss.
Wonder what the numbers will be like at the end of the year, when the scandalous Lindsay Lohan cover is taken into account?
Poor editor-in-chief Robbie Myers: if we've learned anything from their signatures, she can be expecting some poison flowers from Vogue's Anna Wintour by day's end, though Bazaar's daffy Glenda Bailey is probably too busy playing with her Simpsons figurines to realize that any of this has occurred.
Winners and Losers [WWD]