Urban Outfitters confounds us. Its new catalog is full of some vibrant, cool, fun, colorful things we sort of want to buy. The problem? Much of it is being modeled by absolutely miserable 15-year-olds. Also? We love the '80s. Love them! [Some of us, that is. -Ed.] We love George Michael and Madonna's "Lucky Star" and we were really into Silver Spoons. But we're ready for 80s fashion to be over. Over! Let's take a look, shall we?

Oh, honey, did your dog die? Are you just channeling a "look"? Or is it really that hard being a teen model? Sigh. Also: Stripes and leopard. Really? Also: So '80s!
Cute, if impractical, scarf! Reasonably priced! ($24)
G/O Media may get a commission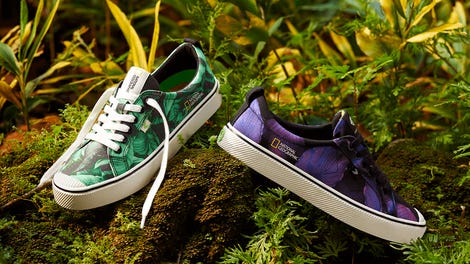 New New New
Cariuma + National Geographic
Hey, look, a Kate Moss pendant. I wonder if she signed off on that? Doubtful. The giant bling diamond is fun. (Alex+Chloe Kate necklace, $54; Alex+Chloe Zero Carat Diamond Necklace, $48)
OK, a question. Jazz shoes: Incredibly stupid or cute and sensible? (Disclosure: We kinda like the silver ones.) (Jeffrey Campbell wingtips, $98; jazz ballets, $28 each; Swear black patent oxfords, $180)
Oh, is it still the '80s? Cool. Cheer up, ladies!
I like that striped cardigan, but it's clearly making the model the saddest girl in the world. Still, the green is cute, huh? (UO Rugby Stripe Cadrigan, $54)
Colored tights are great, we just wish they were on some smiling, laughing, jumping, carefree, HAPPY models instead of these understudies from a road show of "Lay Miz". (Sparkle & Fade pointelle tights, $14; opaque tights, $12)
Hey, it's not the '80s anymore! It's the, uh, '60s? Or the '70s. Busy, but cute. (Crisscross plaid and Paisley Gardens chairs, $200 each; Marigold Floral Loft chair, $80)





OK, four great things about this page: sneakers; sneakers; sneakers and a tattooed guy holding sneakers.
There he is again! Sadly, no price listed.