Lauren Myracle's TTYL series, which follows a group of teenage girls as they communicate solely through texts, IMs, and emails, has regularly appeared on the American Library Association's annual "Top Ten List of Frequently Challenged Books" since the first novel came out in 2004. And it came in first place again this year. Congrats! But how "problematic" does a book have to be in order to earn this dubious distinction? Let's look at what it was up against.
The Color of Earth (series), by Kim Dong Hwa: A coming-of-age story set in rural Korea about a daughter and her widowed mother's experiences with (pretty traditional) sex and romance. Even a celibate Buddhist monk can't help this book win favor with conservative parents (or maybe he's the problem).
The Hunger Games (series), by Suzanne Collins: The obvious choice. If you've been living on another planet, it's about kids violently killing each other.
My Mom's Having A Baby! A Kid's Month-by-Month Guide to Pregnancy, by Dori Hillestad Butler: A baby-making explainer for elementary school kids. THEY MUST NEVER KNOW THE TRUTH.
The Absolutely True Diary of a Part-Time Indian, by Sherman Alexie: A 14-year-old Spokane Indian explores his identity. His best friend might have fetal alcohol syndrome. Too realistic!
Alice (series), by Phyllis Reynolds Naylor: another coming of age series that freaks parents out due to "unsuitable" (read: realistic) sexual content and "offensive language."
Brave New World, by Aldous Huxley: schools are really still banning this?
What My Mother Doesn't Know, by Sonya Sones: The teen protagonist writes a poem called "Ice Capades" about how her breasts react to cold. She also masturbates. INNAPROPRIATE.
Gossip Girl (series), by Cecily Von Ziegesar: for obvious reasons.
To Kill a Mockingbird, by Harper Lee: ditto what we said for Brave New World.
Myracle spoke with The Daily Beast about why her series, which deals with "good girls who make bad decisions" and is "a testimony to the power of friendship — finding your tribe, having your friends' backs," consistently beats out books about extreme kid-on-kid violence, rich cokehead private schoolers, and communism. Part of it, she says, is that the books are written in instant messaging. "The knee-jerk reaction is that it's different than adult language," she said. "Grownups see it as a kid version of, 'Don't look over my shoulder.'" But you don't need one of those overly paranoid local news guides to internet slang (POR! POS!) to figure the book out — as even Myracle's mother said, it only takes a few pages to get used to the way the teens communicate with one another. Grammar is another issue: the books don't "look like literature," and it's easy for parents who haven't actually read TTYL to take one look at it and get all horrified about the proliferation of mysterious acronyms, winking emoticons and misspelled slang (another book in the series is called, l8r, g8r).
The girls do make some dubious choices — one gets pressured into attending a college party by a popular peer, gets drunk, and takes her shirt off, while another has a semi-inappropriate relationship with a teacher — but the plot is realistic and the teens learn from their mistakes in a non-preachy way. "I don't write books to teach lessons, but if a girl can read a story like that and think, 'Maybe I won't take off my shirt at a frat party when people have phones there,' my work is done," said Myracle.
G/O Media may get a commission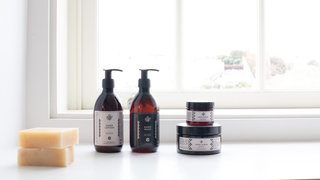 Exfoliate and Hydrate
The Handmade Soap Company
The books also deal with normal, everyday teenage stuff, like boyfriend pressures and Planned Parenthood pill prescriptions — scenarios that some parents just don't want to imagine their baby girls thinking about. "When you start talking about girls and sexuality, there's that old double standard," Myracle said. "When guys talk about sex, eyebrows don't get raised. It's different for girls." And her stories clearly resonate with her readers — Myracle says she gets about 100 emails a day, "filled with emoticons." Sure, her critics call her a pedophile and "Satan's handmaiden," but she's used to it by now. "If you're gonna be on a list, you might as well be No. 1."
It looks like she'll be topping the charts for awhile — her most recent book, Shine, takes place in a crystal-meth-afflicted town. The protagonist lives in a trailer, has a dead mom and an alcoholic dad, and the book opens "with Patrick being beaten, left to die, with a gas nozzle shoved down his throat and a sign saying, 'Suck this, faggot.'" We can't wait to hear what parents who feel uncomfortable about teenage poetry describing breasts on cold windowpanes think about this one.
Lauren Myracle On Why Her Books Top List That America Wants Banned [The Daily Beast]
TTYL by Lauren Myracle