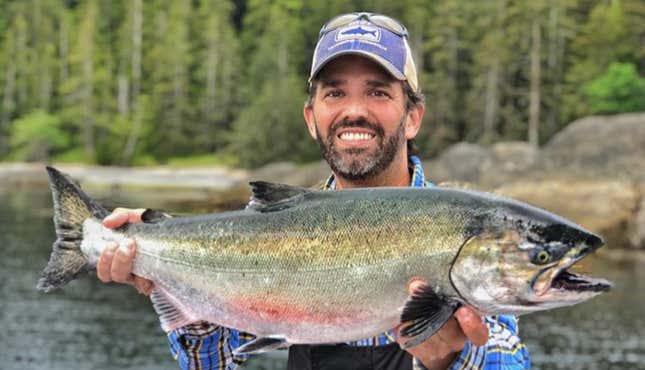 The last few months have been very busy for Donald Trump Jr: he visited Buckingham Palace, posed with a lot of fish, announced an upcoming book complete with a cover photo that screams I've-been-clenching-my-butthole-for-48-hours. And thankfully for us, he documents all of it on his Instagram account, showcasing a mix of right-wing memes, thirst traps, poor workout technique, more right-wing memes, and photos that really show off his multi-faceted sense of himself.
Because Donald Trump Jr. isn't just a spoiled New York City rich boy, he's a spoiled New York rich boy who wears camo.
The duality really jumped out this past summer, where we—or, rather, I, someone intimately familiar with this bad man's Instagram account—saw the eldest Trump child share the many versions of himself with the internet:


Timid Canadian fishmonger starring in a Lifetime Channel movie Don:


Chipper Canadian Fishmonger starring in a Lifetime Channel movie Don:




*"Bawitdaba" by Kid Rock intensifies* Don:


Fucked in the Shape of Water Don:
"U up?" Camo fuckboy Don:


Jaundiced Cardboard Cutout Don:


Tender bass caresser Don:


Existential crisis Don:


Delicately perched on a rock while catching a tiny fish Don:


Warrior Princess Don:
May the many Dons of fall and winter provide us with a comparable bounty of bullshit.