Senator Ted Kennedy, often called the Lion of the Senate, passed away late last night after a long battle with brain cancer. He was 77.
[Image: United States Capitol Building, August 26, 2009. Image via Getty]


Kennedy championed many kinds of legislation over the years, much of it working to narrow inequalities and increase access to basic rights.
His family made the following statement:
Edward M. Kennedy — the husband, father, grandfather, brother and uncle we loved so deeply — died late Tuesday night at home in Hyannisport. We've lost the irreplaceable center of our family and joyous light in our lives, but the inspiration of his faith, optimism, and perseverance will live on in our hearts forever. We thank everyone who gave him care and support over this last year, and everyone who stood with him for so many years in his tireless march for progress toward justice, fairness and opportunity for all. He loved this country and devoted his life to serving it. He always believed that our best days were still ahead, but it's hard to imagine any of them without him.
G/O Media may get a commission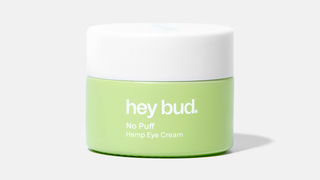 15% off
Hey Bud - No Puff Hemp Eye Cream
Perhaps the saddest part about Kennedy's passing is that he has been both one of the most senior members of the Senate and one that worked to pass some of the most important legislation that has made America great. Without him, I fear that the legislative work on behalf of those most in need will suffer without him.
We've gathered a sampling of the work he has done for women and minorities. He accomplished much in his lifetime, but some of the work he started remains unfinished. The list is by no means comprehensive, but is meant to serve as a tribute to his work in public service.
Gender Equity: Kennedy saw the Senate of the Equal Rights Amendment in 1972, which aimed to make men and women equal in the constitution. He reintroduced the legislation again this congressional session, but it has yet to make it into the constitution.
Kennnedy championed Title IX of the Civil Rights Act in 1972, which prevented educational institutions from discriminating against women (afterward, colleges and universities integrated, paving the way for women like Sonia Sotomayor and Hillary Clinton to attend Ivy League institutions), as well as requiring equitable athletic opportunities.
Civil Rights: Kennedy saw the passage of the Civil Rights Restoration Act of 1988 as committee chairman, which strengthened the Civil Rights Act of 1964. Afterward, then-executive director of the Leadership Council on Civil Rights Ralph Neas said, "Now you see what happens when you have a civil rights champion in charge of the committee."
He was also chief sponsor on the Civil Rights Act of 1991, which addressed intentional discrimination and harassment in the workplace. He was also a key sponsor of legislation by the same name in 2008, which sought to restore civil rights protections stripped by Supreme Court rulings in recent years (like the Lilly Ledbetter case).
Pay Equity: Kennedy worked on the Fair Pay Restoration Act, which sought to restore the rights of women to sue with each discriminatory paycheck, overturning the Supreme Court ruling in Ledbetter v. Goodyear.
Voting Rights: Kennedy worked on the Voting Rights Act of 1965, which allowed equal access to voting as part of the Civil Rights movement. He also worked to add amendments in 1982 that expanded voting access to Native Americans, Latinos, and others who required language assistance.
Affirmative Action: Kennedy helped defeat legislation that would have ended federal affirmative action in 1998 and joined his colleagues in the Senate in filing a brief urging the Supreme Court to uphold affirmative action in 2003.
LGBT Rights: Kennedy has been the chief sponsor of the Employment Non-Discrimination Act since 1994, which would make it illegal to discriminate on the basis of sexual orientation in the workplace. The bill has yet to pass.
Hate Crimes: Kennedy worked on the Matthew Shepard Local Law Enforcement Hate Crimes Prevention Act in 2007, which would implement more severe penalties for crimes against women, gays, lesbians, and transgender persons. The bill was vetoed by President Bush in 2007, but the legislation has been reintroduced in the 110th Congress.
HIV/AIDS: Kennedy introduced what became the Ryan White CARE Act, which addressed thirteen cities hit hardest by the HIV/AIDS crisis in 1990. When it was up for reauthorization in 2000, it provided nearly $9 billion in HIV/AIDS services over the following five years.
Domestic Violence: Kennedy worked with Vice President Joe Biden on the 1994 Violence Against Women Act. He also worked on its reauthorization in 2000, which allowed immigrant women to apply for permanent status in the United States without their abusive partners.
Disability Equity: Kennedy worked to pass the Americans with Disabilities Act in 1990, which provided much-needed accommodations for those with disabilities.
Minimum Wage: Kennedy worked with Congress in 2007 to pass the first hike in the minimum wage in more than a decade. Women disproportionately make up the population low-wage hourly workers.
Women in Combat: Kennedy championed the repeal a ban of women in combat in 1991. Women are still technically barred from fighting on the "front lines," such stipulations are meaningless in modern combat. By working for legislation that repealed archaic legislation, Kennedy helped women achieve more equality in the military.
Military Child Care: In 1989, Kennedy saw the passage of the National Military Child Care Act, which established the Department of Defense's child care program. This allowed working spouses of military members and women who were enlisted themselves to have access to high-quality, federally funded child care.
Health Insurance for Children and Pregnant Women: In 1997, Kennedy co-sponsored the State Children's Health Insurance Program (SCHIP), allowing families to have access to health care that previously didn't. Kennedy also introduced legislation that has yet to pass, Affordable Health Care Act, which would expand Medicaid and SCHIP coverage for children, pregnant women, and the disabled.
He saw the passage of the Pregnancy Discrimination Act in 1978, which made it illegal for employers to fire women for leave taken due to pregnancy. We still don't require employers to provide paid maternity leave.
Minority Health Care: Kennedy championed the The Minority Health and Health Disparities Research and Education Act in 2000, which provided funding for research for how to reduce disparities in cancer, heart disease, HIV/AIDS, diabetes, and other severe health problems that are found to be significantly higher in minority populations. In 2006, he introduced the Minority Health Improvement and Health Disparity Elimination Act, which would address inequalities in health care access and treatment if passed.
The Inclusion of Women in Scientific and Medical Research: Kennedy co-sponsored the NIH Revitalization Act of 1993, legislation that called for the inclusion of women and minorities in federally funded clinical research.
Kennedy Dead At 77 [Boston Globe]
Accomplishments Of Senator Kennedy [The Boston Channel]