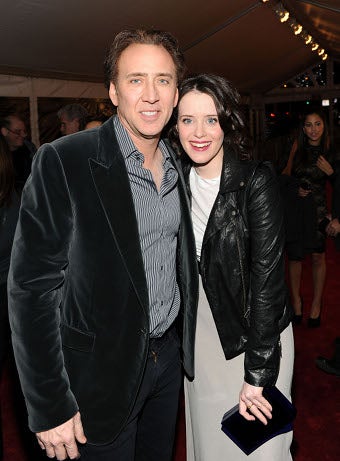 In Season of the Witch, "14th-century knights transport a suspected witch to a monastery, where monks deduce her powers could be the source of the Black Plague." Which doesn't explain all the Real Housewives at the premiere. Or their clothes.
Nic Cage has developed into the sort of man who wears jeans and a velvet jacket — perhaps even the definition of that guy.



Actress Claire Foy — the eponymous witch — goes kinda Little House on us.



Although Ma would pale at this back view!



Opal Perlman, Ron Perlman and guest — would it kill them to get her name? But I did want to say that I love Opal's purse. And her name.



Jill Zarin runs a fabric store. Which is to say, she had hundreds — thousands — of prints at her disposal, and chose this one. Just something to think about on a Wednesday morning.



Fuschia and black is, for some reason, a favored TV color combo — I guess it "pops" — which is maybe why "TV personality Tamsen Fadal" favors it. I can never get past the "Borderline" connotations, personally — and ape the Material Girl at your peril. Haven't we seen "Desperately Seeking Susan?"



Ramona Singer excels at the boob frame. I'd say this isn't a marketable skill, but she appears to be doing okay!



My inner principal wants to tell Kelly Choi that the random beaded fringe does not - not! - subvert the fingertip rule.



A less charitable woman than I might be tempted to call Brittny Gastineau's TV career a poor man's Kardashian. I will settle for saying that her boots are highly reminiscent of the Camel with the Wrinkled Knees.



But seriously, how often does one get to dress in a witch-themed outfit? I get where Rebekah Kennedy is going with this.


[Images via Getty]