Oh, great. You know those shudders of overwhelming terror you feel in the pit of your stomach when it's down to the wire and you have to finish a big project? Well, according to psychologists, "a little anxiety may be just what you need to focus your efforts and perform at your peak." So those are success tremors! Congratulations! Welcome to a life of anxiety and doom.
Says the WSJ:
"Coaches and sports psychologists have always known that you don't want your athlete to be relaxed right before an event. You need some 'juice' to go fast," says Stephen Josephson, a psychologist in New York City who has treated athletes, actors and musicians.
Wow. Just imagine what you could accomplish if you were more anxious. You could finish your novel! (Wait, please don't.) You could finally get to the end of A Feast for Crows! (It's not THAT bad you guys, seriously.) You could refinish the dining room table! (You know I am literally never going to get to that, right?) It would be a utopia of productivity, only everyone would be just a little bit pissed off all the time.
I mean, it makes sense. Anti-anxiety pills are just tiny edible naps, and naps are the opposite of productivity. So, I mean, are there anxiety-inducing pills for the driven and ambitious? Because sign me up! More anxiety for all and maybe we can cure cancer and eradicate bedbugs! (Oh yeah, oops, it's called speed.) And remember, if the people around you tell you to "calm down," just turn to them and scream, "Shut up! I'm not 'freaking out'—I'M SUCCEEDING!!!" Then curl up in a fetal position and weep until spring.
G/O Media may get a commission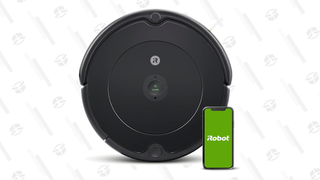 35% Off Black Friday Deal
iRobot Roomba 694 Robot Vacuum
No. I'm joking. It's more complicated than that. Obviously, just as too little anxiety can mean creative paralysis, too much anxiety is even more debilitating. There is, according to this WSJ report again, a potential "sweet spot":
Somewhere between checked out and freaked out lies an anxiety sweet spot, some researchers say, in which a person is motivated to succeed yet not so anxious that performance takes a dive. This moderate amount of anxiety keeps people on their toes, enables them to juggle multiple tasks and puts them on high alert for potential problems.

...It can be tricky to achieve. Some overly optimistic people and those with attention-deficit hyperactive disorder may lack enough anxiety to take action. Others-mostly procrastinating perfectionists-must create anxiety-producing situations in order to get anything done.
Laaaaaaaaaaaame. In case you hoped, like me, that maybe work (in my case, a series of deadlines stretching on into eternity) was going to get easier and less stressful as you got older, well, you're dumb. I'm dumb. If you want to be successful and good at your job, you're basically going to be a little bit anxious every day for the rest of your life. Starting now. The thought of it makes me depressed. Which is the opposite of anxiety. I'm tired. How am I going to finish this article? JESUS CHRIST, WHERE ARE MY SUCCESS PILLS?
Basically, we're all fucked so just do your best. Overproductive people are miserable. Underproductive people are miserable. Regular people are miserable. But would our accomplishments feel nearly so satisfying if they weren't accompanied by that wave of relief as our anxiety is lifted? I doubt it. Life is hard work, and hard work is hard. In related news, water is wet, Khloe is the best Kardashian, and I would like to be best friends with a baby elephant who never grows up. TOUGH SHIT.