I think it was Tolstoy who wrote, "Happy families are all alike, but Kardashians are all different kinds of bacterial strains of fame-grubber." Here is their Christmas card, which features dearly departed Persian kitten Mercy (RIP) sitting unhappily in something that looks like it came from Ikea and is maybe called a glørgle. Honestly, all this white makes me think that their next endeavor is to hawk menstrual products. And any real lady knows that nothing says "Christmas" like the continued freshness of her KardashiJennerGina. [KimKardashian.com, E!]
---
As it turns out, Lindsay Lohan's coming-of-age arc really is similar to Cady Heron's (but with slightly more Vodka Red Bulls and no Ms. Norburys in sight): she's stopped texting back some old party friends. A source says, "She is realizing there are people in her life who are bad influences, who think it's funny when she wants to fill water bottles with alcohol and go out, or stay out all night at nightclubs in New York and look sloppy in photos. These aren't her real friends." Lohan's also apparently cultivating a friendship with a "spiritual guru" who is hopefully not Charlie Sheen in a muu muu and a Ricky's wig. [NYDN]
---
G/O Media may get a commission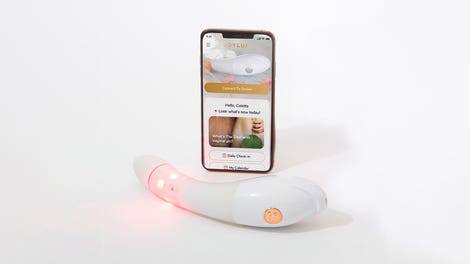 $50 Off
Joylux vFit Gold Device
Michael Douglas' 34-year-old son Cameron was reportedly beaten in prison after a New York crime boss put a bounty on his head during prison-flag football leave season for being a "rat." The younger Douglas blamed his broken femur on a handball game. He's serving a 10-year sentence for dealing crystal meth (and 4 and 1/2 years of that was tacked on after he had drugs smuggled into the prison). [NY Post]
---
Drew Barrymore officially goes down in the annals of Awesome Women Who Give Zero Fucks, Where Is My Food:
"My new motto is 'Impossible expectations are impossible.' Look, with my luck I will starve myself, work out and then the next day get hit by a bus – and think, 'Why did I waste my time doing that?' I think I gained an extra five pounds the last week because I was so late and like, 'Forget it! All bets are off. I'll have two cheeseburgers.' I'm the last person anyone should look to for workout tips. I don't have them. I don't care."
[Express]
---
The series finale of Gossip Girl was last night. I KNOW WHO GOSSIP GIRL IS. Do you?
---