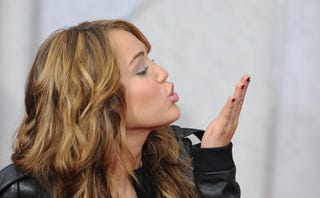 The world premiere of Hannah Montana: The Movie at Hollywood's El Capitan Theatre is one of the most horrifying spectacles we've ever witnessed.


The Good:

Taylor Swift: Always a bastion of dainty clarity in a naughty world.




Chic? No. But you know to Madeline Carroll, this is the most awesome outfit, ever.



Vanessa Williams brings a little needed elegance.



Natalia Dyer: lovely and (said in best schoolmarm voice) actually age-appropriate!


The Bad:



Audrey Kitching: A whimsical Don't.



Why, you ask, is Brittany Curran wearing a robe? I wish I could tell you, but I'm not afraid to admit my ignorance.



Why?!



As mistress of ceremonies, it's appropriate that Miley Cyrus should continue the trend of inexplicable, saddening garb. In this case, a length of fringe left over from a local production of Thoroughly Modern Millie.
[Images via Getty.]