After all the excitement from last week's episode of The Hills, we figured that this week would be sort of boring. We were right: It was back to footage of the cast sitting at restaurants and staring at one other across the table. We couldn't even get angry enough over Heidi and Spencer's fake fight to stop snoring for two seconds. Anyway, last night, Lauren tried to figure out if Brody likes her more than in a friends-who-fuck way. (We think he likes her in a friends-whose-reality-show-I-can-use-to-my-benefit way.) We're starting to think she really sucks at this whole dating thing. At one point, she went through Brody's iPhone and peeked at all the girls' numbers he had saved in it. Who wants to start a relationship with someone who would enter a girl into his phone as "Britney Canada Whore"?
Oh, god, speaking of snoozing, how fucking boring did Lauren and Audrina's Halloween party look? No wonder Brody and Wilmer Wannabe left early. Did you notice Audrina's sister there? The look exactly alike.

She's covered in ink, too.

But then we got a glimpse at Audrina's tattoo as well.

Let's take a closer look: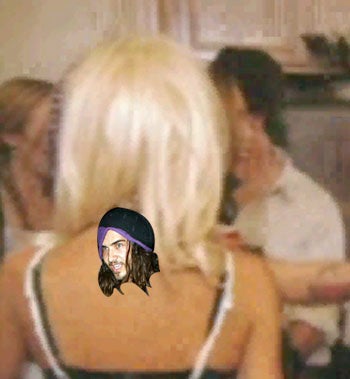 Oh, and Jen Bunney was back on the scene.

That wasn't her costume, though. This was:

Ahh!!! It's her old nose! Scary.