The tagline for the new Will Smith/Charlize Theron-starrer Hancock is, "He's not your average superhero." Isn't he, like, really surly or something? And that's his thing? Being surly? Well, anyway, the fashions on parade at the premiere of the film at Grauman's Chinese Theatre last night were, in fact largely uninspired and occasionally fug, despite the high-wattage stars (Charlize Theron, Amanda Peet, Minnie Driver, Queen Latifah and uh, Larry Birkhead) who made an appearance. All of them, minus Anna Nicole's babydaddy, after the jump.






The Good:


Jada Pinkett Smith gives short women a good name. She really knows what she's doing - and always projects a reassuring air of competence.


G/O Media may get a commission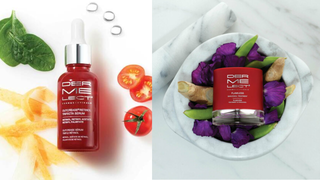 Save $19
Retinol Renewal Kit
I was just watching Good Will Hunting the other day and wondering about Minnie Driver. And here she is! And not looking half bad!


Vail Bloom pulls off this draping; the brown keeps it wearable.


Actress Valerie Azlynn. Cute, no?
The Bad:
In most of the images I saw of Charlize Theron, you couldn't really get a good view of her skirt; it was just swirling around her legs diaphanously and I thought, 'oh, that's pretty.' Then I saw this full-frontal and realized that it was, in fact, not pretty at all.


It looks like Queen Latifah was running errands or something and just decided to stop by the red carpet and say hi. In which case, this is fine.


This seems like one of those cases where an outfit that seems okay conceptually just does not make the transition to the red carpet - which, let's face it, likes clean lines. Poor Amanda Peet looks woefully frumpy.


Although not a regular watcher of Sister, Sister (hey, I had homework to do on Friday nights!) I was glad to see Tia Mowry. Less glad to see this caramel confection which is ugly in three different ways and counting.


Liz Wicker would've had me at hello if she'd left that bodice in tact.
The Ugly:
You don't have to have loved Mallory Keaton to be distressed by Justine Bateman's ensemble. And isn't she a designer? I could swear I saw that on E! (The exclamation mark is not because I'm excited.)
Getty" />