We don't want to be alarmist, but... eleven shopping days until Christmas! And have you even started on your boyfriend's present? What? Well, surely you have a boyfriend if you are reading Daily Candy...and surely if you have a boyfriend and read Daily Candy then the idea of purchasing $76 boxers or a designer wood slingshot makes total sense. A few of our other favorite DC holiday gift ideas, after the jump.
New York: The gals at DC in NYC suggest that your boyfriend's "bulging muscles" would "ripple" in some fire-red long-johns (with convenient neck-to-nuts buttons!). They also suggest a hanging, chimney-less fireplace that starts at a modest $1,260! Perhaps you should ditch the fire-hazard and just get a ceramic space-heater for $19.99 instead?



Boston: Get your guy away from his Wii with a Jack Spade "natural wood" — you know, lest you thought it was made of particle board — slingshot! Seriously, this is an actual thing. We suggest you buy two, so he has something with which to hurl this crappy gift back at you.



G/O Media may get a commission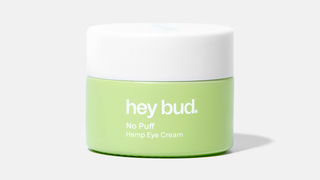 15% off
Hey Bud - No Puff Hemp Eye Cream
Chicago: Money clips made with the same steel they use in space! Guess what other metal they use in space? Aluminum! Yeah, not as exciting. Money better spent: $9.99 space ice cream.



Los Angeles: More long johns! Because if there is one place you need the added warmth of full-body undergarments it is LA. These are by Marc Jacobs though so your "straight" boyfriend will LURVE them! Also more space-related items: Fisher Space Pen. It can write underwater! You know that will come in handy.



Philadelphia: The only DC we've seen to target non-boyfriends, this one suggests the flamboyant, embarrassing ties you used to buy for your dad when you were in fifth grade. Oooooh, counterintuitive! So glad gift guides exist to dispense advice like this.



San Francisco: The team at DC in SF suggest a wrist camera. We know that this might have sounded like a really cool idea in the brainstorming session (where editors flip through old issues of SkyMall over green tea and designer marshmallows) but people have these ingenious contraptions called cameraphones now, so... oh Jesus Christ, forget it.



Washington D.C.: Got a lot of money to burn? How about a pair of custom-made, two-ply, 160 thread count boxers with mother-of-pearl buttons and a "roomy posterior"? At $76 a pair you could waste a lot of money on a piece of clothing that will eventually be covered in skid marks. But not as much money as DC D.C.'s other suggestion: hiring a documentary filmmaker to make a movie about his life! No, seriously!