Celebrities in Cannes have been spending the past week partying on yachts and attending glamorous film premieres. Thus, their fashion crimes deserve no clemency.
My favorite of the week was Spanish actress Paz Vega's black and white belted gown. It has so many elements that I typically find disgusting and trite—like cutouts, a weird boob window, and the feather-duster hem—but working together they create a cutting edge look that combines an old Hollywood silhouette with modern flair.
Jessica Chastain was pretty much flawless all week long in flow-y, light-weight gowns.
G/O Media may get a commission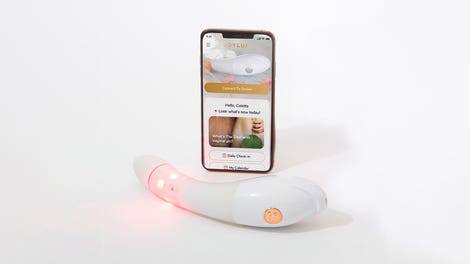 $50 Off
Joylux vFit Gold Device
Kirsten Dunst's belted gown manages to convey the youthful elegance that hot pink satin always wants to, but rarely ever does.
Jane Fonda's sexiness is offset by the photographers who all decided to wear clown wigs.
The flower petals of Naomi Watts' dress are constructed completely out of feathers.
Typically, gowns that have the mermaid fish tail thing are supposed to be fitted from the knee up, but Cheryl Cole looks like she's swimming in hers.
I thought the louder, patterned gowns were some of the coolest: Kristen Stewart, Bérénice Bejo, and Barbara Palvin.
Sparkle: Milla Jovovich, Kylie Minogue, and Diane Kruger.
Black: Salma Hayek, Kate Upton, and Allyson Paradis.
White: Michelle Rodriguez, Elizabeth McGovern, and Diane Kruger.
Green: Natasha Poly, Araceli Gonzalez, and Luisana Lopilato.
The color is loud enough that Jada Pinkett Smith's dress doesn't need all those other bells and whistles, like the high slit or the weird breast plate thing.
Whoever designed Karolina Kurkova's gown should take note that the last thing a woman wants is for someone to look at her ass and then furrow their brow. Seriously, what the fuck is that?
I think even Mariah Carey would find Hofit Golan's butterfly bracelet to be a bit much.
This lady's Star of David left an indentation on her skin that looks like some kind of horrible concentration camp scar. Who would've thought that wearing a symbol of one's religion at the top of one's butt crack would be a bad idea?
I didn't think it was physically possible but for an event in the middle of the day, Isabelle Adriani is both over and under dressed.
These three.
All the other women who attend these premieres borrow their gowns and jewelry, but Phoebe Price actually paid for hers.
Are we actually supposed to be fooled into thinking that Roxane Mesquida is naked under this dress? I mean, it's gotten to the point where these nude illusion dresses are just coverups for beige bathing suits. These designers are just getting away with selling unlined gowns.
The worst part of Asia Argento's getup is the eyebrow of her tattoo.
Delphine Chaneac in My Big Fat Gypsy Wedding attire.
Cassie is trying to gank Skrillex's style.
Bianca Balti's floral dress makes her look like a waitress at a theme restaurant. I feel like Kelly Brook was drawn to this dress the same way that little girls are drawn to geodes—they're both sparkly and colorful, but ultimately common. Model Sarah Marshall can't take all the blame for this outfit, starring her thigh high, since she is the muse for designer Jean Claude Jitrois, who did this to her.